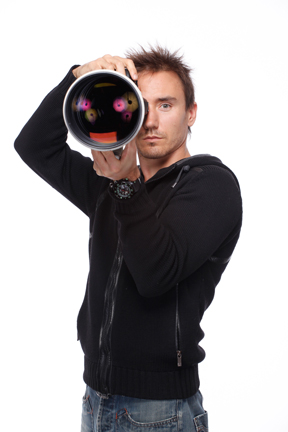 Canadian filmmaker Rob Stewart has gained mass media attention for his efforts to change the world. His documentaries Sharkwater and Revolution emphasize the importance of adopting new lifestyle habits as well as the everlasting consequences humans are thrusting upon themselves. Fresh off another win for Revolution, we were able to chat with the award-winning director as he discusses his plans for the future and what we all can do to help cut down our carbon footprint. ~Nadira Chand
Let's talk about what an honor it is to have received the International Eco-Hero Award. 
It's a great honor. The Planet in Focus Film Festival is amazing and I'm so thrilled to have played a small part in it.
Has the initial impact of the documentaries worn off, or do you feel that with time, your films are reaching more audiences?
It's our job as filmmakers to get better at this art, to engage more people in more profound ways. Our first two films changed the world in some way, but I've learned so much, and will use that to plot bigger more ambitious goals… Life for me is about never stopping learning or getting better, and now more than ever, we need to be the best we can be.
What does Revolution say specifically about the world that we live in?
Our life depends on life, which we are destroying. But the largest movement that's ever existed has arisen to combat this problem, and will win… it just needs your help.
Can you elaborate on ideas you had that lead to the production of this film?
I understood we were in massive trouble as a species, but hoped enough in humanity that we would do something about it if we understood what was happening. That faith led me to make films to educate and empower humanity to hopefully live more meaningful lives that benefit life instead of destroy it.
You speak about fossil fuels and the ways in which we are harming our environment. If you could recommend three tips to ease the use of fossil fuel from our lives, what would they be?
1. Eat lower down the food chain, local and organic – eating meat is the single biggest thing you do to pollute the environment.
2. Watch your consumption – what do you consume, how or where was it made, what it's packaged in and how it was transported to you.
3. Educate your friends and family – this brings our morality into the equation, and together as a species we can hold each other accountable.
What are things that you do in your everyday life that can be adopted to counter-balance our carbon footprint?
1. Buy second hand and vintage items. Don't engage in the disposable society. Keep items precious and take care of them. Buy the best things you can afford that will hopefully last your lifetime or beyond.
2. Buy less… choose experiences and friends over items.
3. Develop your own style, and stick with it. You don't need a new fashion trend!
Were there specific shots/angles that you really wanted to capitalize in your films?
I really wanted to get the flamboyant cuttlefish life cycle, as it represents a species that will thrive in this extinction, and points out that we humans have a lot of work to do.
Are you currently working on any more projects? I heard you're involved in the "Saving Bala" movement?
Saving Bala is an exciting project, because it's a scenario where film and media will change the world… (View trailer here!) I'm [also] working on a seahorse love story. Imagine March of the Penguins crossed with Finding Nemo. And we're doing a series on the future, to help humanity imagine the kind of future worth fighting for.