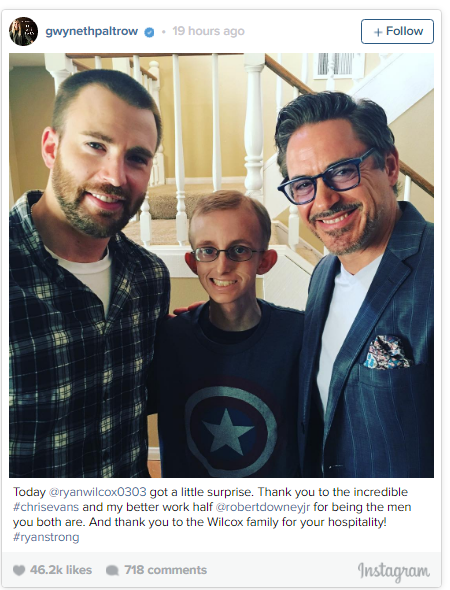 The Avengers may have a new superhero in their ranks.
Over the weekend, Robert Downey Jr., Chris Evans and Gwyneth Paltrow, who shared the screen in 2012's The Avengers, made a special trip to San Diego to visit Ryan Wilcox.
Ryan, 18, who has been diagnosed with leukemia for the second time, took to social media using the hashtag "#ryanstrong" to express his desire to meet the trio of stars.
Gwyneth was the first to learn of Ryan and his story. Upon her discovery, the Oscar winner vowed to make Ryan's dream a reality and lived up to her word.
The actors spent the afternoon with Ryan and his family and signed autographs, including one on Ryan's bedroom wall.
Gwyneth documented their time with Instagram posts.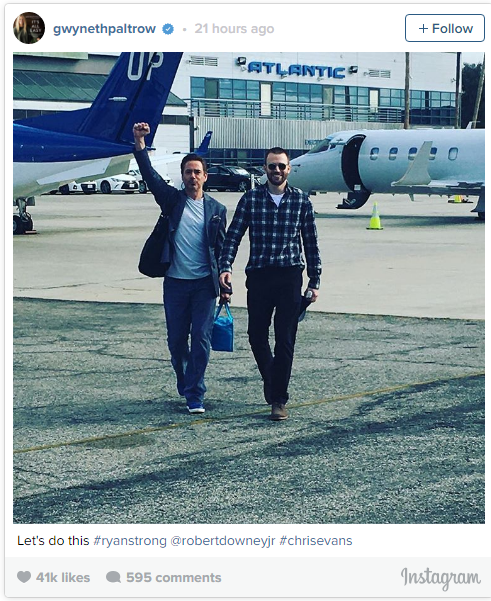 Before Chris met Ryan, he sent the young fan a personalized video. He encouraged him to "keep fighting" and applauded his support of Captain America.
Robert, 51, and Chris, 34, can both be seen in Captain America: Civil War, currently in theaters.
Gwyneth is reportedly attached to an upcoming TV movie by Ryan Murphy called One Hit Wonders. The comedy musical is expected later this year.
~Matthew Pariselli