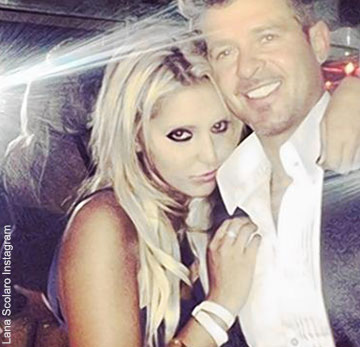 A photo of Robin Thicke, 36, with a fan at a VMA afterparty following his risqué performance with Miley Cyrus of his hit song Blurred Lines, went viral this week, and the fan, Lana Scolaro, 20, is saying that she and Robin made out at the party, with his wife, Paula Patton, standing only a few feet away. She may be telling the truth – check out the reflection behind them in the photo, which she posted on Instagram – Robin has a firm grip on her butt.
Lana told Life & Style magazine, "His hands were everywhere." In an exclusive interview with the magazine, she told them, "I don't think he cared what [his wife] thought. I was with him the whole night!" Lana says she met him the week before at another party, and when he saw her after the VMAs, he immediately approached, telling her, "I just love the fact that you're so young."
Robin later took Lana with Paula to another party, this one at a suite at the Greenwich Hotel, where Robin started making out with Lana on a couch. "I went to the bathroom, and when I came out he was standing there," she said. "He turned off the lights so no one could see us, and he started making out with me. He was grabbing me. He was like, 'I want to get you into bed!'" However, she says nothing happened because they kept getting interrupted, so when the party ended at 8 a.m., he gave her his cell number and said he would see her again during NYC Fashion Week.