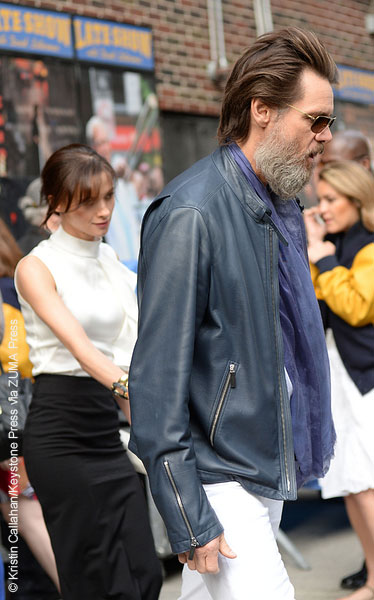 Zelda Rae Williams, the daughter of late actor and comedian Robin Williams, has been speaking out about suicide since her father took his own life last year on August 11, 2014.
The 26-year-old actress, known for Nine Months and House of D, felt compelled to voice her concerns again following news of the suicide of Cathriona White, 30, who was the girlfriend of actor Jim Carrey. The couple are pictured together at left following Jim's appearance on Late Show with David Letterman last May. Cathriona's body was found in her apartment on September 28, 2015, of an apparent drug overdose.
The Irish born and raised Cathriona was a makeup artist, living in Los Angeles when she met the actor in 2012. They had been dating off and on since that time.
On Tuesday, Zelda tweeted: "Heartbroken to continue to watch sweet, kind souls be consumed by darkness. May it never hurt less, so we never grow numb to the loss." She followed that up with another tweet that read: "In honor of @littleirishcat, please check out http://www.pieta.ie. They do great work in her wonderful home country. RIP Cat."
On Instagram, Zelda earlier wrote about continuing her father's charitable work, saying, "I will do everything else in my (decidedly less athletic) power to continue Dad's legacy and support the charities he loved that I've watched firsthand change thousands of lives."  ~Sharon Salsberg