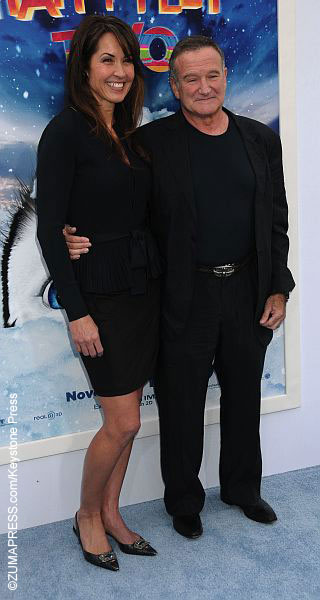 Susan Schneider Williams, the widow of legendary comedian Robin Williams, has opened up in excruciating detail about the final few months of her late husband's life.
Writing for the journal of the American Academy of Neurology, Susan detailed the debilitating neurological disease that would lead Robin to die by suicide in August 2014, likening his decline in health to "chemical warfare in his brain."
Despite months of various physical and neurological issues, as well as a Parkinson's Disease diagnosis, it wasn't until a coroner's report three months after the Oscar winner's passing that Susan would discover his real cause of death.
"As you may know, my husband Robin Williams had the little-known but deadly Lewy body disease (LBD)," she wrote. "All of 4 doctors I met with afterwards and who had reviewed his records indicated his was one of the worst pathologies they had seen."
LBD is a common form of dementia (affecting approximately 1.4 million Americans today) that resembles both Alzheimer's and Parkinson's diseases, and can be especially hard to diagnose because it shares so many characteristics with other diseases.
As Robin's health quickly declined and he began displaying several distressing symptoms including sleeplessness, tremors, and a level of anxiety which was out of character for him, doctors struggled to find a proper diagnosis. Even a test for diverticulitis proved negative.
"By wintertime, problems with paranoia, delusions and looping, insomnia, memory, and high cortisol levels — just to name a few — were settling in hard," Susan continued. "He kept saying, 'I just want to reboot my brain.'"
Following a long-overdue diagnosis with Parkinson's Disease in May 2014, Susan said, while she was relieved to finally have an answer, Robin would not accept that as the sole reason for his health problems.
"When we were in the neurologist's office learning exactly what this meant, Robin had a chance to ask some burning questions. He asked, 'Do I have Alzheimer's? Dementia? Am I schizophrenic?' and when his doctor said 'No,' Robin was unsatisfied."
Robin continued his cognitive and physical therapy, which included bike riding, meditation, and yoga, but he soon became weary, experiencing almost all of the 40 symptoms of LBD, one of which Susan believes was hallucinations. By this time, sleepless nights even forced the couple to sleep separately.
"It felt like he was drowning in his symptoms, and I was drowning along with him," Susan continued.
By the second weekend of August, however, she began to hope that Robin's "delusional looping" was lessening, possibly due to a recent change in medication.
"We did all the things we love on Saturday day and into the evening, it was perfect — like one long date," she wrote. "By the end of Sunday, I was feeling that he was getting better. When we retired for sleep, in our customary way, my husband said to me, 'Goodnight, my love,' and waited for my familiar reply: 'Goodnight, my love.'  His words still echo through my heart today."
The following day, on August 11, 2014, Robin took his own life.
Over two years after his death, Susan, whom Robin married in October 2011, has been a vocal advocate for neurological disease awareness and was recently appointed to the American Brain Foundation's board of directors.
She said she wrote the very personal essay to help neurologists understand their patients as well as their spouses and caregivers a little more, and to "add a few more faces" to the reasons why they conduct their research.
"Robin is and will always be a larger-than-life spirit who was inside the body of a normal man with a human brain. He just happened to be that 1 in 6 who is affected by brain disease." ~Shelby Morton