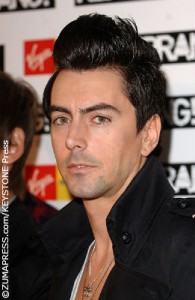 Welsh rock singer, Ian Watkins, of the rock band Lostprophets, has been sentenced to 35 years in Britain for several child sex offences. The charges include attempted rape of a baby, sexually touching a one-year-old, encouraging a fan to abuse her child, making child pornography and possessing an extreme pornographic image involving sex with an animal. After sexually touching a fan's 11-month-old baby, Watkins then attempted to rape the child, according to the Telegraph. He encouraged another female fan to abuse her child during a video chat, as well as creating and stashing child porn videos. Watkins' lawyer tried to argue that the defendant "unraveled" because of drug use and the pressures of fame. The 36-year-old singer was visibly shaking as he pleaded guilty to 13 child sex offenses last November.
But despite pleading guilty, a transcript of a phone call Watkins made to a fan from prison read out loud in Cardiff Crown Court, revealed Watkins' shocking perspective on the allegations. It stated, "I'm  going to put out a statement on the 18th just to say it was 'mega lolz.' I do not know what everybody is getting so freaked out about. It was like either I go up there and say, 'Come on, it was not that bad. Nobody got hurt'… [or] try to win them over with my charm."
Described as a "committed, organized pedophile" with "no empathy, no sympathy, or any remorse," during trial, Watkins will serve 29 years in jail and remain under strict probation for six more years. He will be up for parole after he serves at least two-thirds of his sentence.
The judge told Watkins, "You had many fawning fans that gave you power. You knew you could use that power to induce female fans to… help satisfy your insatiable lust and take part in the sexual abuse of their own children. Away from the highlights of your public performances lay a dark and sinister side."
The Lostprophets formed in 1997 and their 2006 album, Liberation Transmission, went platinum in the U.K. The band announced their break up after Watkins' arrest. ~Jennifer Yoo