Rocketman a musical fantasy about Elton John – Blu-ray review
By Alexandra Heilbron on August 30, 2019 | 1 Comment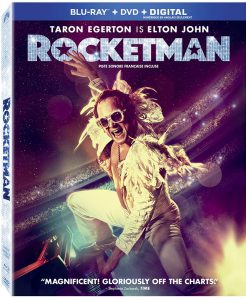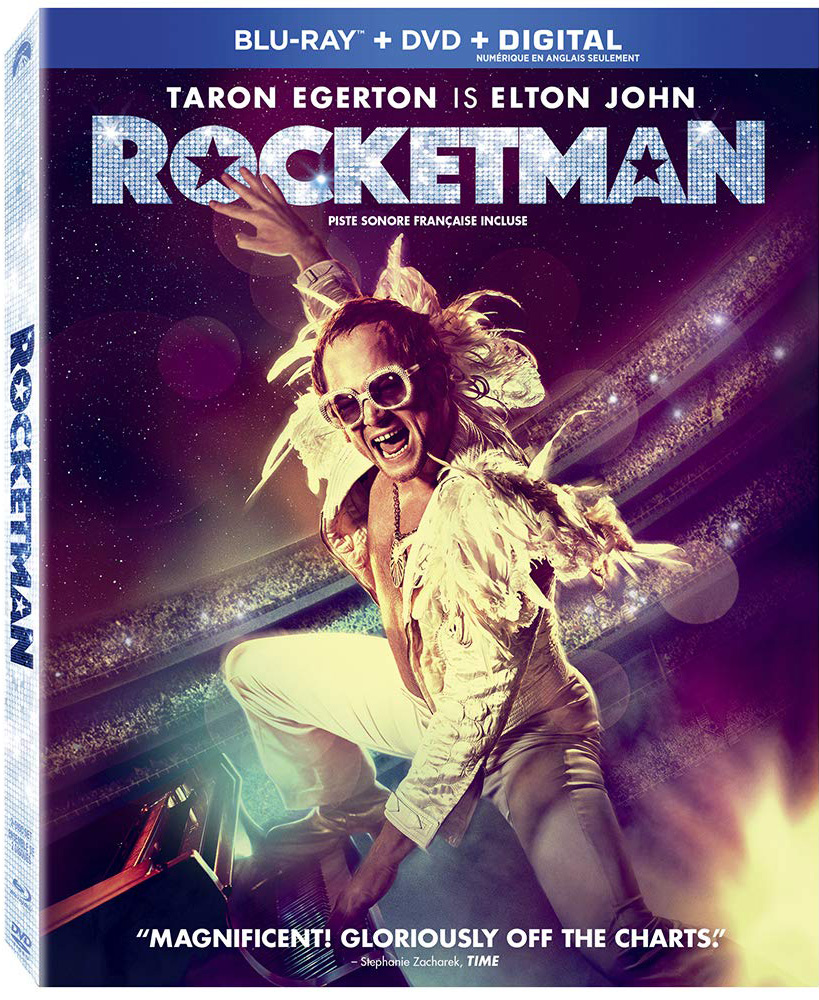 Rocketman is a musical that depicts the most important points of Elton John's life. It could be called a biopic, but not in the same straightforward style as the critically acclaimed Bohemian Rhapsody about Freddie Mercury's life, which many people tried to compare Rocketman to when it debuted in theaters.
In the bonus features on the Blu-ray, there's a clip in which we see Elton John talking to Taron Egerton, who plays him in the movie. He tells him that rather than a biopic, he wanted the movie to be fun and not take itself too seriously, even though a lot of serious issues in his life had to be addressed.
In fact, Rocketman is a fantasy version of Elton John's life, which is clear right off the bat. It starts with Elton, dressed in an elaborate devil costume, marching into a group meeting for addicts at a rehab center. When asked about his childhood, we see Elton, then called Reggie Dwight, living with his parents (Bryce Dallas Howard, Steven Mackintosh) and his maternal grandmother (Gemma Jones). We soon realize the little boy is starved for love. His grandmother is kind, but his father doesn't want anything to do with him and his mother sees the boy as a nuisance. When Reggie begins playing the piano, perfectly mimicking a song he just heard on the radio, his nan encourages the boy and arranges for piano lessons.
Years later, he does an audition for a record producer, who hands him lyrics when he discovers Elton only composes music. Inspired, Elton immediately begins composing music for the lyrics, which are written by Bernie Taupin (Jamie Bell). The two collaborate on some amazing songs and eventually, Elton is sent to Los Angeles to perform at the Troubador.
He makes a splash and becomes famous, but that's also where his troubles begin. He falls for a man who uses him. He becomes addicted to cocaine and a number of other drugs. He goes to see his father at one point, who has remarried and has two young sons. Although his father is just as cold to him as ever, Elton almost breaks down when he sees the man showing affection to his younger sons.
We see that although Elton is a man who is dealing with a lot of hurt and loneliness, each time he's steered onto the stage, he becomes a completely different person. Filled with energy, he thrills crowds, who know nothing of what Elton is actually dealing with.
Taron Egerton is an actor with incredible range — not to mention a beautiful singing voice — and he steals almost every scene he's in as Elton John. He puts so much energy and passion into his portrayal that it's hard to take your eyes off him. However, when Jamie Bell appears as Bernie Taupin, he brings so much charisma to the role that he also commands the audience's attention, although in a quieter way.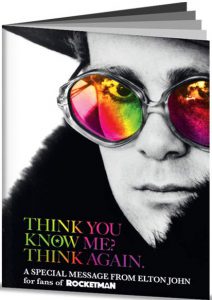 Rocketman is a very entertaining two hours, and perfectly fitting to portray the eccentric life that Elton John has lived to date. He hit the scene with a wide assortment of oversized glasses and outrageous costumes bedecked in feathers and sequins — and this film is exactly what an Elton John fan would expect he'd offer up to depict his life story. It's eccentric, wild, poignant, and a bit naughty at times.
The Blu-ray combo pack comes with a 12-page booklet titled Think You Know Me? Think Again: A Special Message from Elton John for fans of Rocketman. In it, Elton reveals he had never planned to write an autobiography, but after having two sons, he changed his mind and wrote one called Me, as a counterpoint to Rocketman, because although the film is based on reality, it doesn't include everything. Me will be available October 15, 2019. ~Alexandra Heilbron
Bonus Extras
Extended Musical Numbers
10 Deleted and Extended Scenes
It's Going to Be a Wild Ride: Creative Vision – David Furnish, producer and Elton's husband, reveals how long Rocketman was in the making. Elton John says that the movie is an accurate depiction of his life.
Becoming Elton John: Taron's Transformation – Featurette in which we see Taron in the recording studio singing to a track. Elton John talks about how incredible it was to see Taron perform his songs, while director Dexter Fletcher reveals that Taron didn't wear any prosthetics, instead only wearing wigs and shaving his hairline so it would appear to be receding.
Larger Than Life: Production Design and Costuming – Makeup and hair designer Lizzie Yianni Georgiou says it was amazing how much Taron looked like Elton at times, to the point where Elton sometimes mistook a photo of Taron to be a photo of him.
Full Tilt: Staging the Musical Numbers – Producer Matthew Vaughn, director Dexter Fletcher, Bernie Taupin and David Furnish all talk about the film. We see the dancers rehearsing at Bray Studios Back Lot, led by choreographer Adam Murray.
Music Reimagined: The Studio Sessions – Music producer Giles Martin reveals that Taron, whom we see  recording Bennie and the Jets, was told that he shouldn't try to imitate Elton, but to make the songs his own in order to tell the story. Elton tells Taron that his cover of Don't Let the Sun Go Down on Me is the best he's ever heard, while Richard Madden, who plays John Reid, reveals that he's more comfortable being naked than singing in front of people.
Rocketman Lyric Companion – Sing-along with select songs.
Rocketman Jukebox: Jump Straight to the Music – A list of all the songs in the film appears. Choose each one to go straight to that song within the movie, and when it finishes, you're brought back to the list.
If you have seen Rocketman and would like to rate/review it, click here.
---
---
---
---
Similar Articles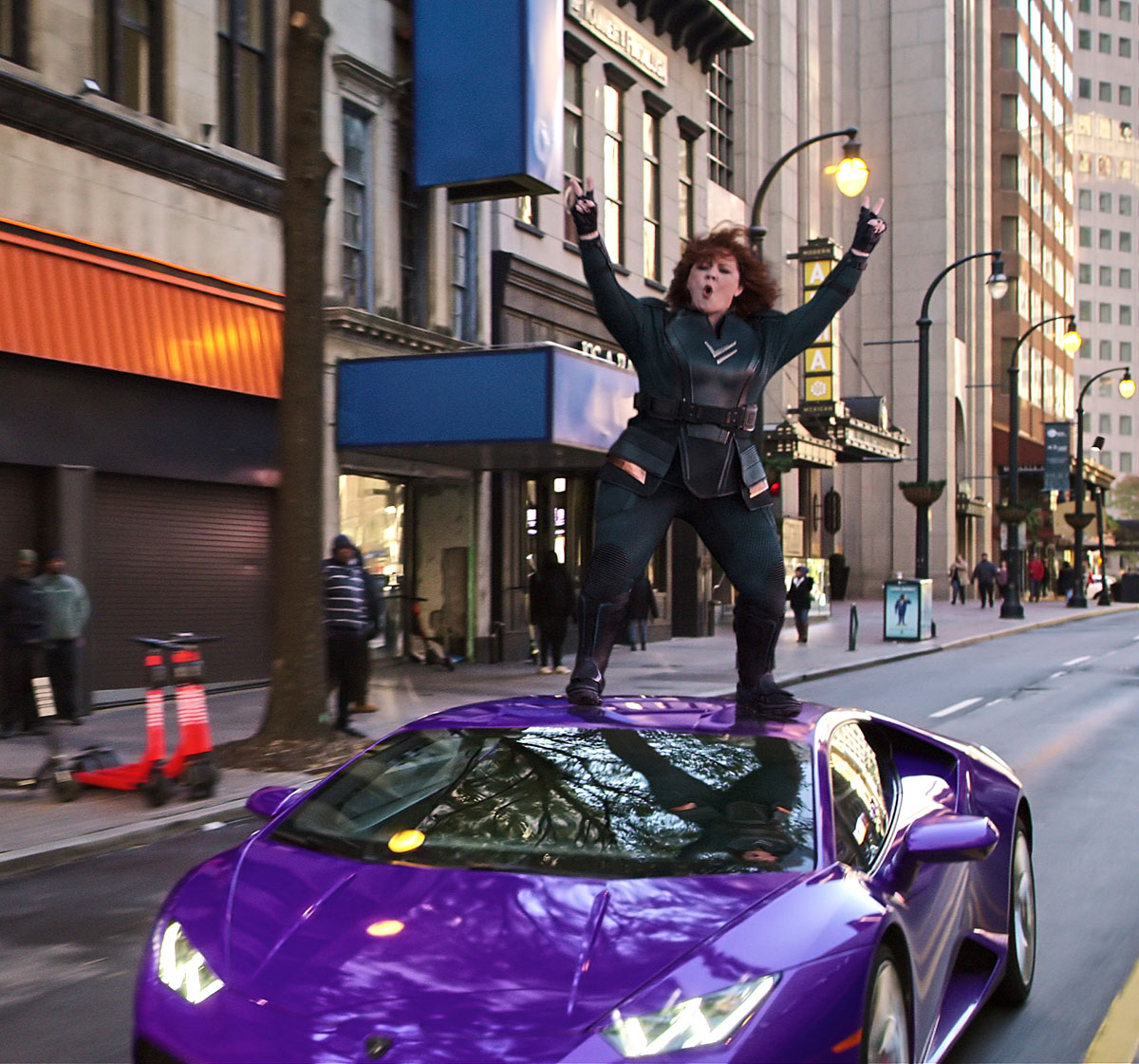 April 5, 2021 | 2 Comments
Check out the new DVDs, Blu-rays and streaming shows coming out this week, including Thunder Force starring Octavia Spencer and Melissa McCarthy on Netflix.
---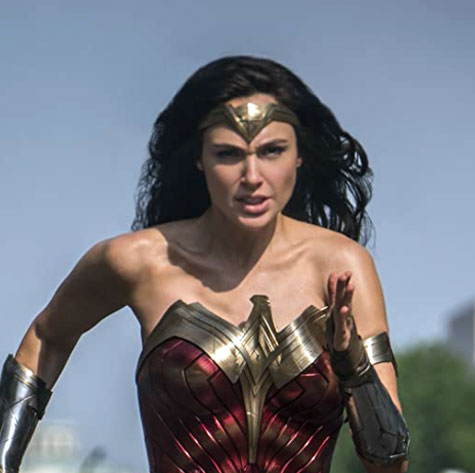 March 29, 2021 | Leave a Comment
Check out the new DVDs, Blu-rays and streaming shows coming out this week, including Wonder Woman 1984, the Oscar-nominated film Another Round and much more!
---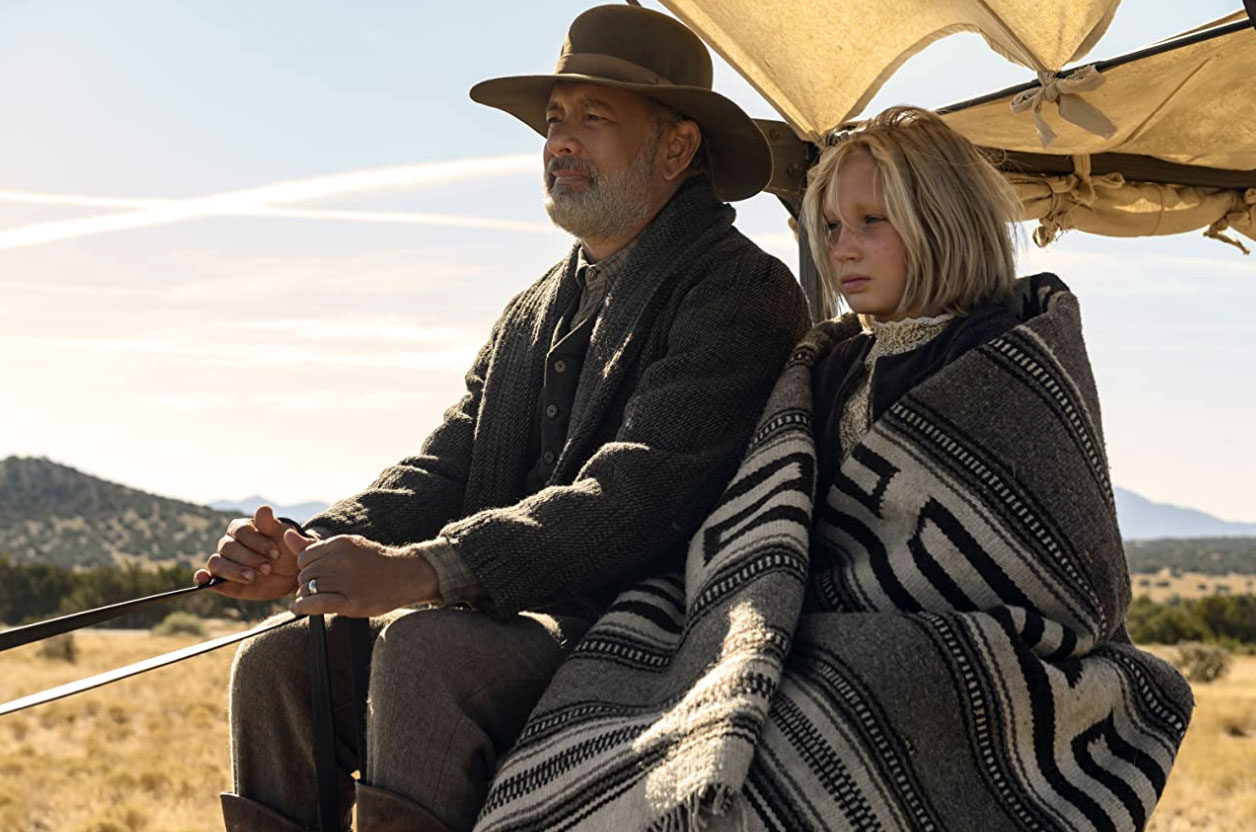 March 22, 2021 | Leave a Comment
Check out the new DVDs, Blu-rays and streaming shows coming out this week, including the Oscar-nominated films News of the World starring Tom Hanks and Soul.
---