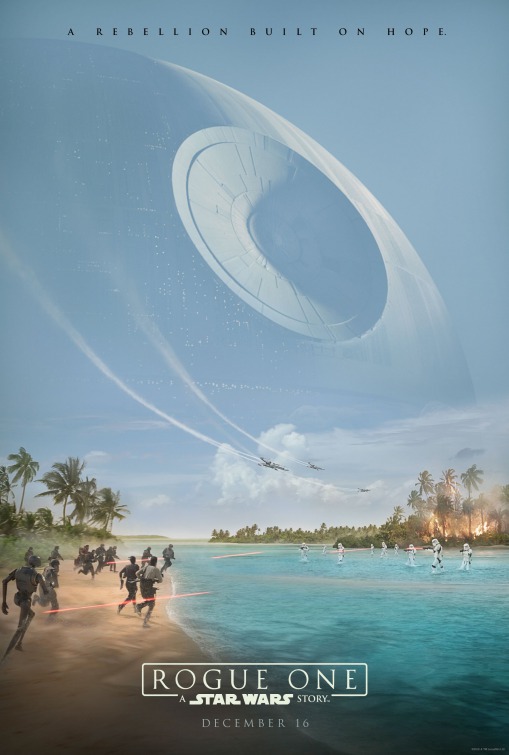 Moana's smooth ride to box office bliss has come to an end at the hands of Death Star-seeking rebel forces.
Rogue One: A Star Wars Story tore into theaters this weekend and annihilated the competition. The 3.8-star rated sci-fi hit, directed by Gareth Edwards and starring Felicity Jones, is chronologically set between Star Wars: Episode III – Revenge of the Sith (2005) and the original film, Star Wars: Episode IV – A New Hope (1977). It brought in a huge haul of $155 million domestically and a massive earning of $290.5 million worldwide, making it the 12th biggest debut of all time and the third biggest of 2016 (behind Captain America: Civil War and Batman v Superman: Dawn of Justice).
After three weeks atop the box office standings, Moana slipped down to second place on this list with an $11.7 million earning this weekend. The animated film, which was nominated for two Golden Globes earlier this week and features the voices of Auli'i Cravalho and Dwayne Johnson, now rides on a total profit of $161.9 million. It continues to resonate with Tribute readers, evident by its 5-star rating.
The first festive film on this list is Office Christmas Party, which danced its way to $8.5 million this weekend. Fueled by funny actors Jason Bateman, Jennifer Aniston and Kate McKinnon, among others, the 2-star rated comedy now has $31.5 million under its belt (or Christmas tree) after two weekends on screens.
With an Oscar-caliber cast including Will Smith, Kate Winslet, Keira Knightley, Edward Norton and Helen Mirren, Collateral Beauty premiered this weekend to a $7 million showing. The David Frankel drama, made on a budget of approximately $35 million, is set in New York City and largely unfolds around the holidays. It currently has a 4.4-star rating on Tribute.ca.
In its fifth week of release, Fantastic Beasts and Where to Find Them hung on to a top five finish with a $5 million effort this weekend. With Eddie Redmayne and Katherine Waterston lending it their magic, the 3.6-star rated film now has $207.7 million to go along with the creatures in its suitcase. ~Matthew Pariselli