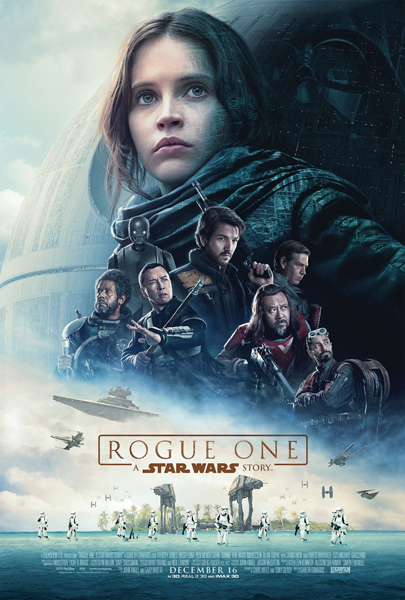 Rogue One: A Star Wars Story is set in the time period preceding Star Wars: A New Hope (a.k.a. the original Star Wars movie) and following the prequels that were made afterwards.
In the opening of Star Wars: A New Hope, the introductory crawl reads in part: "Rebel spaceships, striking from a hidden base, have won their first victory against the evil Galactic Empire. During the battle, Rebel spies managed to steal secret plans to the Empire's ultimate weapon, the DEATH STAR, an armored space station with enough power to destroy an entire planet."
The plot of Rogue One: A Star Wars Story is based on that crawl. It starts with Jyn Erso (Felicity Jones) as a child, living with her parents in a barren, unpopulated area. She's left on her own after an evil Imperial officer (Ben Mendelsohn) comes to take her scientist father Galen (Mads Mikkelsen) away.
Years later, she joins Rebel forces to get plans for the DEATH STAR away from the evil Empire.
There are a lot of battles in this movie and a large number of people are gunned down or blown to pieces during these battles. Rather than a plot or character-driven piece, there's no doubt that this is a war movie first and foremost.
Devoted Star Wars fans will undoubtedly love it. There are some surprise appearances that will have them cheering and applauding.
It neatly fills the gap left between the final prequel — Star Wars: Episode III – Revenge of the Sith — and Star Wars: A New Hope. We can now look forward to the next movie that will move the story along – the untitled Star Wars: Episode VIII.
If you have seen Rogue One: A Star Wars Story and would like to rate/review it yourself, click here.