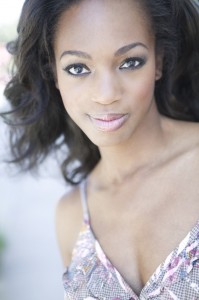 Canadian actress Enuka Okuma stars on the hit Canadian series Rookie Blue and will hit the big screen this summer in Tom Hanks' movie, Larry Crowne.
Rising Canadian actress Enuka Okuma is one busy lady. The Vancouver native—whose name means "gift from heaven" in Nigerian—has many big roles ahead this summer: a leading role on the hit Global series Rookie Blue (its second season premieres June 23), a supporting role in the much-anticipated comedy Larry Crowne, starring Tom Hanks and Julia Roberts (out July 1), and a life-changing role when she walks down the aisle in Toronto for wedding this July.
Okuma, 34, spoke to Tribute where she is currently finishing up the second season of Rookie Blue, the police drama that became the highest-rated scripted series on Canadian television last summer. On the series, Okuma plays tough rookie cop Traci Nash. "She's somebody who hasn't let anybody get in the way of achieving her dreams," Okuma said. "So even though she's a single mom, she still manages to patrol the streets every day. I think it's pretty impressive."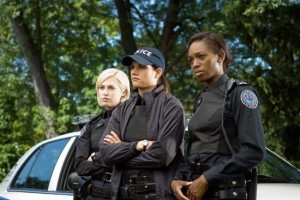 Before taking on Traci Nash, Okuma was best known for starring roles on the Canadian teen drama Madison (for which she received two Gemini nominations), and crime drama Sue Thomas: F.B. Eye. Okuma also provided her voice for several animé programs, including Dragon Ball Z and Mobile Suit Gundam Wing. When she was originally called in for the Rookie Blue audition, she tested for the role of Gail Peck, which was later given to co-star Charlotte Sullivan. In a cool twist of fate, Sullivan had first auditioned for Traci Nash. Both actresses asked to try out for the other character, and the producers heeded the actresses' wishes.
Okuma says that since the cast bonded so tightly on and off the set, their chemistry became even stronger while shooting season two. She is also excited for the changes given to her character this season. "Traci starts to show her ambitious colours a little bit," she said. "[She's] got her eye on detective."
Her success has now catapulted her to the big screen. Okuma landed a role in Hollywood icon Tom Hanks' next movie, Larry Crowne. As Crowne's next-door neighbour, Chandra, Okuma says she was thrilled to also work with Cedric the Entertainer and Taraji P. Henson, who play her uncle and aunt. "Those two are hilarious…they were lots of fun," she said. "And working on a big old set like that, you'd think it might be a little bit more impersonal [than Rookie Blue], but they were all fantastic and welcoming and generous."
While on the set of Larry Crowne, Okuma was also hard at work planning her own debut film, a short that she wrote, produced, directed and had a supporting role in, entitled Cookie. When she told her director/co-star Hanks that she would be working both in front of and behind the camera, she said the Oscar winner wished her good luck but also told her to be prepared for a hectic shoot. "He was pretty forthcoming in the fact that he told me that it was absolutely insane…[and] it was crazy. I don't even know which side is up when acting and directing at the same time."
Beyond her wedding in July, touring Cookie around film festivals in North America and Europe and waiting for the green light on Rookie Blue's third season, Okuma says she is currently writing more screenplays. But she's looking forward to the day when she can finally take a break.
And how will she spend this period of rest and relaxation? Going to the movies, of course! "For me, a perfect day is a matinee and then going home and watching something on demand," Okuma, whose favourite movies include Lovely and Amazing and The Bridges of Madison County, said. "I'm a huge fan of movies! It's kind of embarrassing and very cliché, but I don't care."
—By Jordan Adler