Rosa Salazar rises in Alita: Battle Angel – movie review
By Tribute on February 13, 2019 | 1 Comment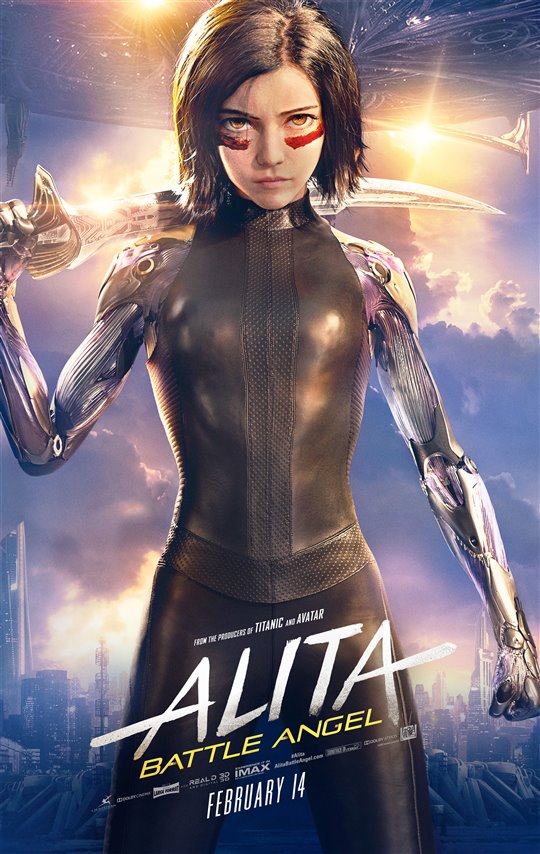 After James Cameron was introduced to the Battle Angel Alita (or Gunnm for the more ardent fans) Japanese manga series 25 years ago by fellow filmmaker Guillermo del Toro, his live-action adaptation of the cyberpunk series hits theaters thanks to his collaboration with Robert Rodriguez.
A passion project for the two filmmakers, Cameron handed the project off to Rodriguez and together, along with co-writer Laeta Kalogridis, their combined vision makes for one of the most ambitious and visually stunning film experiences in recent memory.
Based on the manga by Yukito Kishiro, Alita: Battle Angel covers roughly the first four volumes of the original nine volume series that ran from 1990 to 1995, and as a result, it's a densely packed film.
The film begins with Dr. Dyson Ido (Christoph Waltz) finding the cybernetic core of a young girl in the scrapyard of Iron City. After realizing her brain is still alive, he decides to bring her back in the body he had originally built for his now deceased daughter, and names the girl Alita (Rosa Salazar) after her.
Upon awakening, Alita finds she has no memory of her past life, but she is eager to learn about the destitute world she now inhabits. She meets the young and ambitious Hugo (Keean Johnson), who dreams of reaching the city of Zalem that floats above Iron City. He introduces her to the sport of Motorball, to which she takes an immediate liking.
But danger lurks just around the corner in the city as law enforcement is almost non-existent, forcing citizens like Ido to take action in their own hands as Hunter Warriors — bounty hunters who track down and kill wanted criminals. Alita's inner warrior comes to light when she aids Ido during one of his jobs, bringing her to the attention of Vector (Mahershala Ali), Chiren (Jennifer Connelly), and their mysterious overseer named Nova.
Faced with their machinations against her, Alita finds herself in a battle not just for her life, but for those around her as well.
It's here in the writing where Alita will win or lose audiences. There are a multitude of plot threads that are intertwined in the film, which form a loose narrative, with the result often being some haphazard pacing. Certain portions of the film feel rushed, while others feel drawn out.
Despite a tight 122-minute runtime, the film gives the illusion of feeling much longer, which may or may not be a positive for audiences. There are also moments where the dialogue will come off as laughable, but much of that comes due to the nature of the film's titular character.
Alita is a character unique unto herself in the world of cyberpunk as we've come to know it through cinema. Within her dystopian world, Alita is a breath of fresh air. Whereas she simply could have fallen into the "born sexy yesterday" trope, she quickly moves beyond that as a character while maintaining her youthful optimism and bright-eyed demeanor in a world that is clearly lacking it. Her outlook places her in a unique juxtaposition from the world she inhabits, and while some may see the tonal shift as oddly placed in this film, it's also the point of her character and just who she is at her core.
Cameron's attraction to the character should come as no surprise, given his track record. From Sarah Connor in the Terminator franchise to Ripley in Aliens to Neytiri in Avatar, Cameron has a penchant for empowering female characters in his films beyond Hollywood's expectations. Part of it is his writing, but most of it goes to the women who have been cast in these roles, such as Linda Hamilton, Sigourney Weaver, and Zoe Saldana in those aforementioned films.
And credit here goes to the wonderfully charismatic performance of Rosa Salazar in her first leading role. There's an infectious charm to her performance that will surely enamor her to all audiences. The fact that it shines through the VFX of her performance capture is a credit not just to her, but to the folks at WETA digital as well. While Alita's eyes may stand out at first as a nod to Kishiro's original designs and artwork, they quickly become a natural part of the film and Salazar.
The rest of the cast is headlined by acclaimed actors such as Christoph Waltz, Mahershala Ali, Jackie Earle Haley and Jennifer Connelly, along with newcomer Keean Johnson in the meatier roles. Waltz by far has the most to work with as Dr. Dyson Ido, the man who becomes Alita's surrogate father. Keean Johnson is significant not just as Alita's love interest, but also in his own motivations and how they relate to the overall plot — he's fairly solid in his first major role. As for the film's primary antagonists in Ali, Connelly, and Haley, they're serviceable, if a bit lacking in their characterizations.
However, the VFX is the definite selling point of this film and has been a large part of the film's marketing to date — for good reason. Alita is the first must-see blockbuster of the year and is a film that must be experienced in the best format possible. It's no surprise as a film coming from Cameron and Rodriguez — but their work on this film is absolutely stunning. Grand in scale and ambition, there are moments and sequences within the film that are simply breathtaking, highlighted by the Motorball sequence during the film's climax. Action is the name of the game and Alita delivers in spades.
Within that delivery though, the film does have its shortcomings by its nature of being an adaptation of a graphic novel series. The multiple plot threads result in some storylines left open for future sequels, as the world building is as minimal as possible without further overburdening the the movie. The end result will have some audiences looking for a self-contained story disappointed, as Alita is very much an origin story for a franchise that may or may not get a sequel. That will leave some audiences feeling a little underwhelmed at the ending, but fans of the manga and anime adaptation will be excited at the possibilities of what's to come.
Alita: Battle Angel is a beautifully realized passion project from Rodriguez and Cameron. It's easily Rodriguez' best film in years, and as his biggest film to date, is a sci-fi epic that ultimately serves as a welcome introduction for Rosa Salazar to general audiences. ~Paolo Maquiraya
If you have seen Alita: Battle Angel and would like to rate/review it, click here.
---
---
---
---
Similar Articles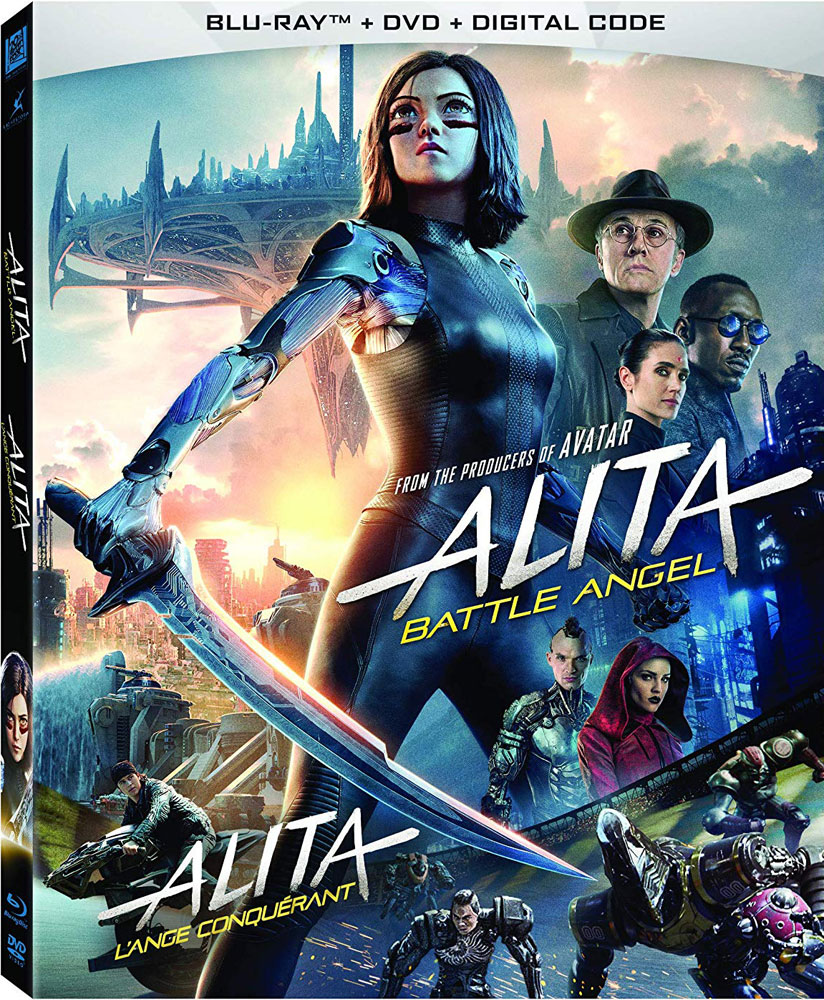 July 23, 2019 | Leave a Comment
Four new movies are available on DVD and Blu-ray today including the box office smash Alita: Battle Angel. Click here to see the full list, descriptions and trailers!
---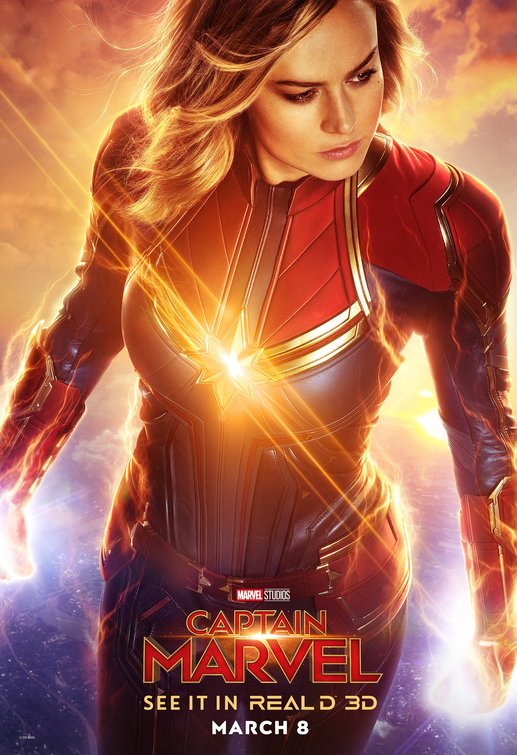 March 10, 2019 | 1 Comment
The highly-anticipated Captain Marvel starring Brie Larson came in first place at the box office, despite early trolls leaving negative pre-release comments.
---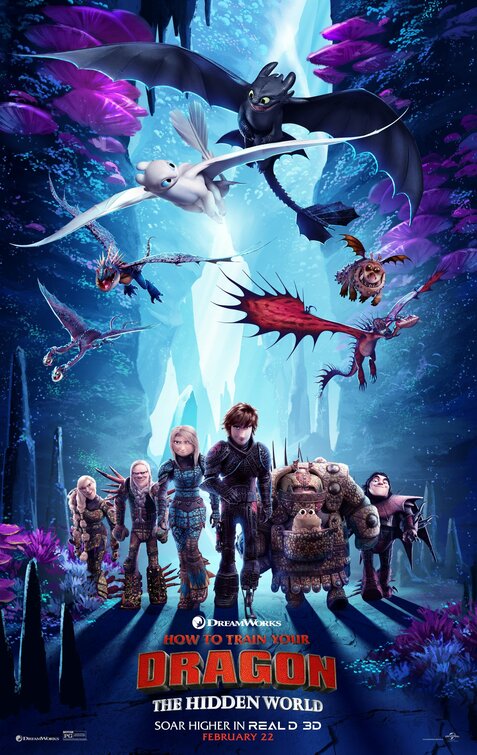 March 3, 2019 | 2 Comments
New releases Tyler Perry's A Madea Family funeral and Greta debut in the top five at the box office. See which films managed to keep a spot on the charts!
---