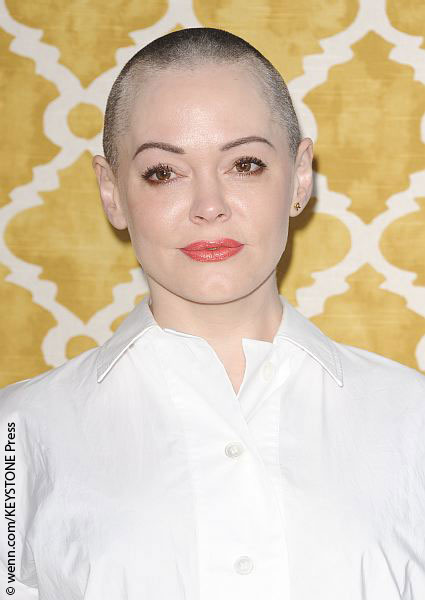 Inspired by the women who are finally speaking out to say they've been groped and sexually assaulted by presidential hopeful Donald Trump, actress Rose McGowan is speaking up on Twitter using the hashtag "#whywomendontreport," to say she was raped by a "studio head," tweeting it's an open secret in Hollywood. She claims while she's been shamed, her rapist is adulated.
Most telling of all, she tweeted "My ex sold our movie to my rapist for distribution." It's well known that Rose dated director Robert Rodriguez for several years, from 2006 to 2009. They met when she played a role in the segment of the 2007 movie Grindhouse that he directed. When the segment was expanded into a movie starring Rose, titled Planet Terror, the distribution rights were sold to The Weinstein Company. Rose went on to play the role of Boots McCoy in Robert Rodriguez's Machete, which was filmed in 2009, but when it released in 2010, her role was cut.
Her career has cooled off considerably since then and she has spoken up in the years since about abuse and discrimination against women in Hollywood. Check out her tweets about her rape below, in which she says she contacted an attorney, who said Rose wouldn't win the case because she'd done a sex scene in a movie.
Although Rose hasn't named the rapist yet, it sounds like she's gearing up for it, tweeting, "It is time for some goddamned honesty in this world." ~Alexandra Heilbron
It is time for some goddamned honesty in this world.

— rose mcgowan (@rosemcgowan) October 14, 2016
Because my ex sold our movie to my rapist for distribution #WhyWomenDontReport — rose mcgowan (@rosemcgowan) October 14, 2016
because it's been an open secret in Hollywood/Media & they shamed me while adulating my rapist. #WhyWomenDontReport

— rose mcgowan (@rosemcgowan) October 14, 2016
a (female) criminal attorney said because I'd done a sex scene in a film I would never win against the studio head. #WhyWomenDontReport — rose mcgowan (@rosemcgowan) October 14, 2016