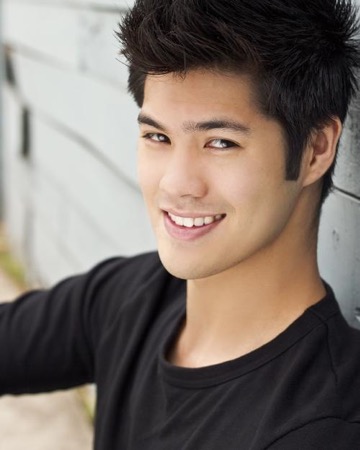 Ross Butler is no stranger to the camera. In the past couple of years he has guest-starred on TNT's Major Crime and MTV's Happyland. He has his plate full for 2015 as he stars in a handful of TV movies and series. He cleans up nicely in the role of the popular and studious Spencer on Disney Channel's Teen Beach 2, which airs on Family Channel and Disney Channel tomorrow (Friday, June 26). Ross will also be seen starring alongside Bella Thorne in Perfect High, which was shot in Canada. He also plays a recurring character on the Disney Channel series K.C Undercover with Zendaya.  
What can you tell me about this sequel?
Teen Beach 2 is set pretty much after the first movie. Brady and Mack go back to school and they reconnect with their school friends. Then some of the kids from Wet Side Story come to the present and everyone has to tune in to see what happens next.
Tell me about your role in Teen Beach 2.
I play Spencer and he is the studious popular kid in school. He's into extra curricular activities and he is Mack's friend.
Did you sing or dance in this one?
I do, but I don't sing. I do dance and I'm in one of the numbers. That was crazy because I'm not really a dancer.
What was your favorite memory from filming on set?
Yeah, as you know we were shooting in Puerto Rico and there was one night we had a lot of down time. And a lot of the local dancers were salsa instructors and professional dancers. So we got like a free salsa lesson for three hours under the Puerto Rican moon, it was really cool.
That sounds like a lot of fun! Do you have a favorite scene in the film?
I think it would have to be the dance scene at the very end. It was hard to shoot but it's like the big finish. I think everybody is going to love learning to dance through it and the song is very catchy.
Was this your first dancing role?
Yes, it was my first.
So now you're a professional, right?
Yeah, now I'm a pro and I can put that on my resumé. (laughs)
You're also going to star in a Lifetime movie called Perfect High, playing a junkie. Tell me about that role!
Perfect High was created because there was a worrying statistic that a lot of American teenagers feel that it's okay to do heroin without any consequences. So we wanted to make a real, relatable story where it shows the story of four teenagers who are just like any other teenagers who spiral into this heroin lifestyle starting from recreational prescription drugs and how that morphs into heroin.
What was it like working with Bella Thorne?
Bella was great. She's so professional and fun to work with. You get to set at 4:30 a.m. and she is dancing and making jokes.
I heard Perfect High was filmed in Canada. What was that like?
Yeah, we shot in Victoria. It's such a beautiful city, specifically the food. I had smoked salmon for breakfast, lunch and dinner. All the stereotypes of Canadians being the nicest people was so true. I would walk down the street and strike up a conversation just by walking next to someone. And we would go different ways at the crosswalk. It was a really fun experience shooting in Canada.
And you're also making a few appearances on K.C. Undercover!
On K.C. Undercover, I play a junior spy and I'm teaching her (Zendaya) the ropes. I sort of lure her into this relationship because my dad is the rival of her family. And I can now say that I will be back soon, can't say for what, but you will see more of me.
Is there a role in recent years that you would have loved to have played?
That's a hard question. I'd say any of the Marvel movies. I would love to also do a role in a movie like Inception, which had a unique story line. Great actors and a great script; not just a bunch of people punching each other.
From all the Disney actors, who would you most like to work with?
Someone I really wanted to work with is Ryan Gosling. He was a Disney star back in the day on the Mickey Mouse Club. (laughs) He is such an amazing, subtle actor. I'm trying to take that style into my repertoire.
What's next for you?
I have a few projects that I'm talking to people about but I can't really say what. But I guess for now people can see me in Teen Beach 2, Perfect High and K.C. Undercover.
~ Marriska Fernandes