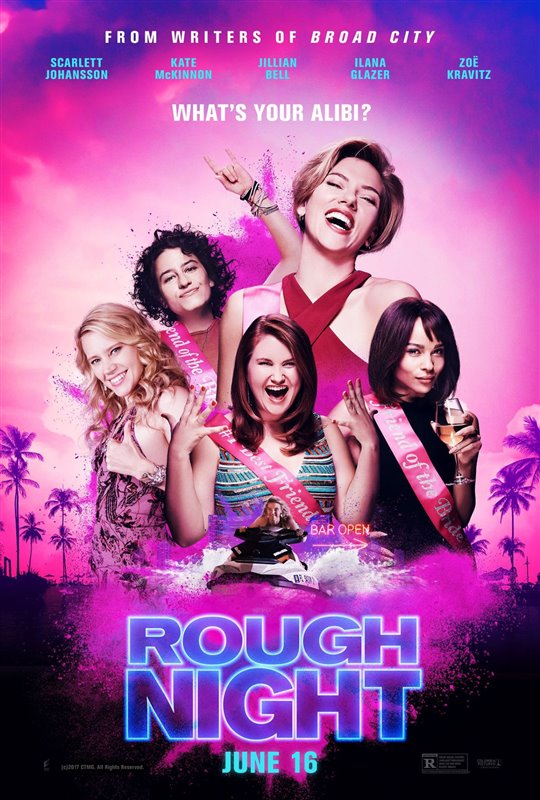 With wedding season in full swing, the one conversation sure to make rounds is how to bid goodbye to your singledom. Taking this wild party to the next level with plenty of laughs is Rough Night starring Scarlett Johansson, Kate McKinnon, Jillian Bell, Zoë Kravitz and Ilana Glazer.
Bride-to-be Jess (Johansson) is best friends with her college pals Alice (Bell), Frankie (Glazer) and Blair (Kravitz). They have a long history — be it beer pong competitions or frat parties. Forward 10 years later, they're leading separate lives. Jess is running for office, Alice is a school teacher, Blair is getting divorced and Frankie is a political activist.
With Jess' wedding on the horizon, the girls decide to have a wild bachelorette weekend in Miami. Jess' Australian friend Pippa (Kate McKinnon) also joins them on this unforgettable trip. Their friendship gets tested when they accidentally kill a male stripper. Oops!
After watching the film, we got together to share our two cents on this female-centric buddy comedy. ~Marriska Fernandes and Alexa Caruso
Marriska: I was looking forward to Rough Night. It's been a while since a wedding comedy hit the big screen. While this film isn't what I expected, it certainly had me laughing out loud. It had its share of ups and downs, but overall it was a good watch for an all-girl "bromantic" (or in other words, "womantic") summer comedy.
Alexa: Totally agree. The film definitely had its share of funny moments, but I don't think it compares to a hit flick like Bridesmaids, which was hilarious. While I was hoping it would be as comically charged, Rough Night still made for a fun night at the movies. I'd say the film owes a lot of its comedy to Kate McKinnon. She really provided the majority of the laughs for me.

MF: Yes! Kate was outstanding. She had me rolling with laughter. I wish she had more screen time, without the Australian accent. Even though Illana and Jillian have strong comedic backgrounds, they pale in comparison to Kate, who steals the limelight. The film is not your regular wedding comedy, as it transitions from lighthearted comedy to dark humor with the death of a male stripper. It adds a fresh element to it. I liked that dark undertone. It was refreshing and entertaining.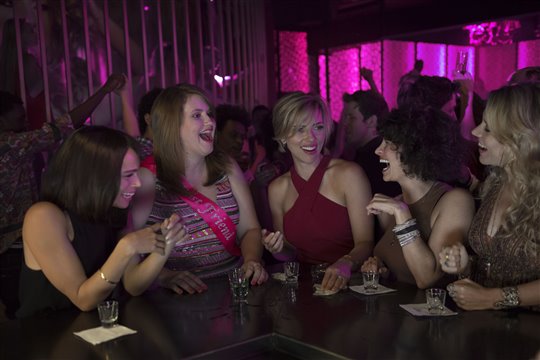 AC: I liked that too. Being in such a crazy situation pushed the girls into more of a frenzy and made them more outrageous, which in turn, made for more ridiculous and funny moments. I also really liked how the film flipped typical gender stereotypes. Jess's husband and his buddies behaved more like how women are typically portrayed in films about getting married. That was a welcome change for me.
MF: True, that was refreshing. Also, I would have liked to see more personality in Scarlett Johansson's portrayal. She was the odd one out. Or maybe it's because she's established herself as the sexy seductress or bad-ass superhero. I appreciated her effort, but she felt out of place in this film.
AC: I felt the same. I didn't find Scarlett believable as the nearly straight-laced wallflower that her character was supposed to be. She also got overshadowed by the other actresses. I'm not used to seeing that with her. Like you said, she's established herself as the seductress or ass-kicker, which, I agree, are roles she shines best in.
MF: Overall, I enjoyed the film. I would go see it with my girl squad for the laughs, and for Kate McKinnon. I give this wild bachelorette flick a stripper-ific 7.5 stars.
AC: Same here! The film definitely makes for a fun night of on-screen hijinks. I give it a solid 7 out of 10 stars.
We hope you enjoy the film as these Rough Night bachelorettes get tied up while trying to tie the knot. If you've seen Rough Night and would like to rate/review it, click here.