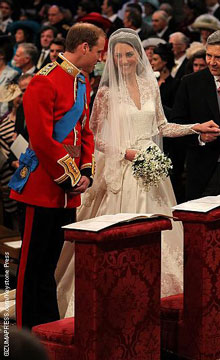 Friends, family, foreign dignitaries and a handful of celebrities were among the 1900 guests invited to the royal wedding of Prince William and Kate Middleton, including Rowan Atkinson (Mr. Bean), David and Victoria Beckham, Elton John and David Furnish, Guy Ritchie, and Joss Stone.
Tens of thousands of dedicated monarchists stood outside Westminster Abbey to catch a glimpse of the proceedings as Catherine, the future Queen of England, arrived wearing a stunning Alexander McQueen V-neck gown composed of French Chantilly lace and English Cluny lace with a long-sleeved overlay designed by McQueen creative director Sarah Burton.
She entered through the West Door with her father Michael Middleton, then gracefully walked up the aisle to the tune of the soaring choral masterpiece I Was Glad from Psalm 122, sung by the renowned Choir of Westminster Abbey. Mr. Middleton handed his daughter over to a smiling Prince William, who stood waiting from his position by the High Altar alongside his best man, younger brother Prince Harry. The Archbishop of Canterbury married the couple while the Bishop of London gave the address, and the Dean of Westminster conducted the solemn service.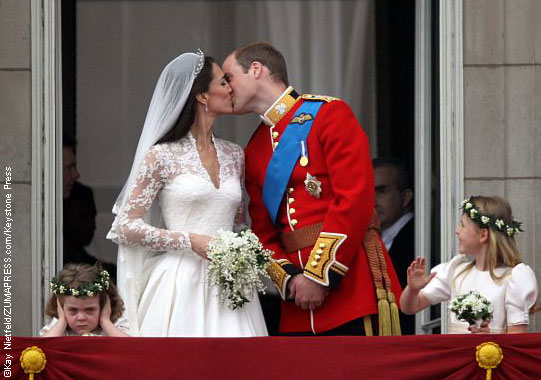 Afterwards, the royal couple was taken to Buckingham Palace by horse-drawn carriage, where they joined the other royals on the balcony at approximately 1:25 p.m. London time. While the crowd chanted, "Kiss! Kiss!" the new Duke and Duchess of Cambridge shared a shy public kiss in front of thousands. A few minutes later, they kissed again, this time less shyly as the crowd roared in approval.
The newlyweds and their guests then went inside to enjoy a lunchtime buffet hosted by the Queen, which will be followed by a private evening reception at Buckingham Palace for 300 guests. ~Alexandra Heilbron