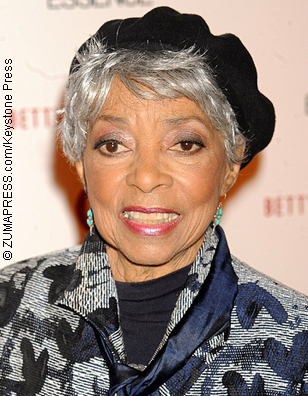 Stage and screen star, Ruby Dee, passed away from natural causes at her home in New Rochelle, New York. She was 91.
Born Ruby Ann Wallace on October 27, 1924 in Cleveland, Ohio, the star grew up in Harlem and graduated from Manhattan's Hunter College in 1944 with degrees in French and Spanish. After divorcing Blues musician Frankie Dee, Ruby continued to use her ex-husband's surname. She was later married to actor Ossie Davis until his death in 2005. They are survived by three children: Guy, Hasna, and Nora.
Dee appeared in such films as The Jackie Robinson Story (1950), the 1982 remake of Cat People, and the Spike Lee joints, Do The Right Thing (1989) and Jungle Fever (1991). In 2008, she won the Screen Actors Guild award for her supporting role playing Denzel Washington's mother in Ridley Scott's American Gangster, a film for which she was also nominated for the Best Supporting Actress Oscar. She also acted in such renowned plays as King Lear, A Raisin in the Sun and The Glass Menagerie.
Throughout her lifetime, Dee received a number of awards, honors, and accolades, such as the Screen Actors Guild Lifetime Achievement Award in 2001, the National Medal for Lifetime Achievement In the Arts in 1995, the Spingarn Medal from the NAACP.
An activist in the Civil Rights movement, Dee was mentioned at the Tony Awards this past Sunday during Audra McDonald's acceptance speech for Best Performance by an Actress in a Leading Role: "I want to thank all the shoulders of the strong and brave and courageous women that I am standing on." McDonald went on to list Dee alongside Lena Horne, Maya Angelou, Diane Carroll and Billie Holliday. ~Daniel Horowitz