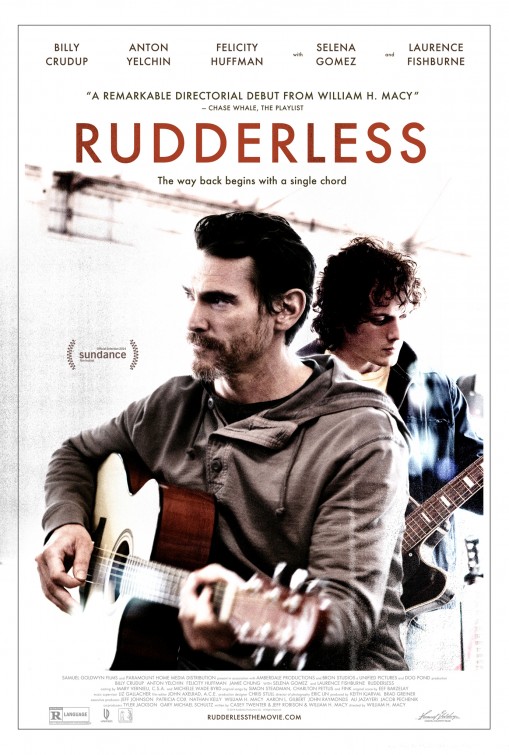 Life is completely unpredictable. One moment you could be having a cup of coffee and the next moment your life could change forever. We do not have control over everything in our lives. However, we are in control of how we choose to react and deal with the events. Academy Award nominee William H. Macy makes his directorial debut with the heartwrenching and inspirational film Rudderless, which deals with just this type of situation – the aftermath of a horrible and life altering event. This extremely heartfelt film demonstrates that in order to truly move on and overcome your past you must first face it.
The film follows actor Billy Crudup as Sam, a high-profile ad executive who seemingly has everything going for him: a gorgeous house, a fancy sports car and a recently signed big new client. However, his world is completely turned upside down when his son Josh (Miles Heizer) dies in a school shooting. On top of his sudden loss, he's hounded by the press, who want to know if he holds the school responsible. In order to deal with the pain he quickly turns to alcohol.
The film picks up two years later where we are introduced to a completely different Sam. He is no longer a hot shot ad exec or living in a luxurious house. He now lives on a small sailboat on a lake and has traded in his sports car for a bicycle that he rides to his work every day  – painting houses.
Sam has completely isolated himself from others, holding no attachments to anyone or anything — except alcohol. However, this changes when one day his ex-wife Emily (Felicity Huffman) visits him. After finally summoning the courage to clean out Josh's room, she gifts everything music related — demotapes, guitars, amps, and all original songs — to Sam, because music was always his and Josh's common interest.
Sam is initially hesitant and does not want the reminder and memories of his son. However, he eventually gives into curiosity and when he listens to Josh's original compositions, he's immediately hooked. Sam is intoxicated by them and the idea of learning more about his son, leading him to listen to them everywhere and even learn them on the guitar.
He eventually works up the courage to perform one at an open mike night where he meets aspiring musician Quentin (Anton Yelchin). After Quentin persuades a reluctant Sam, they eventually form a band and perform Josh's songs. Their band, "Rudderless," becomes a local sensation and gives purpose, meaning and heart again to Sam's life. However, just as things are starting to look up they take a turn for the worse when someone from Sam's past returns.
Billy Crudup is sensational, returning to his Almost Famous rock star roots. He is a joy to watch and delivers so much emotional depth to his portrayal of Sam that it's impossible to look away. Anton Yelchin is paired perfectly opposite Billy, delivering an authentic performance. The pair provide the perfect balance of grief and warmth as they each fill the void in the other's life, whether it's the father figure role or a second son. With the help of the supporting cast — Felicity Huffman, Selena Gomez and Laurence Fishburne — the film beautifully portrays the aftermath of dealing with life altering circumstances and how in order to move on you have to come out of hiding and face your fears.
As much as the characters drive the movie forward, the original soundtrack is the true heart of the film and connects everyone together, as well as to their past, present and future. The songs apply to all the characters in different ways and really add another layer of depth to the film. Without the songs none of their transformations and realizations would be possible.
The Rudderless DVD includes bonus features to give a more in-depth look into the film and to provide a better understanding of how it all came together. It includes multiple emotional deleted scenes including: TV reporters waiting outside of Sam's house and the devastatingly sad scene of Sam drunkenly trying to help a woman put a baby seat into her car, as he continuously tells her he knows how to, because he used to have a son. The DVD also includes the featurette Hear This Song about the making of the film's soundtrack and the film in general. It voices the actors' experiences of working together and on William H. Macy's directorial debut. An added bonus is the inclusion of the featurette Hold On: Music Video with Selena Gomez and Ben Kweller, which gives the full version of a song we only hear a snippet of in the film. The music video also includes other actors from the film. Rudderless is now available on DVD. Also available this week: Lucy, The Drop, Annabelle, The Boxtrolls and Life's a Breeze. Click here for a full list of new releases. ~Janine Wyslobicky