Run All Night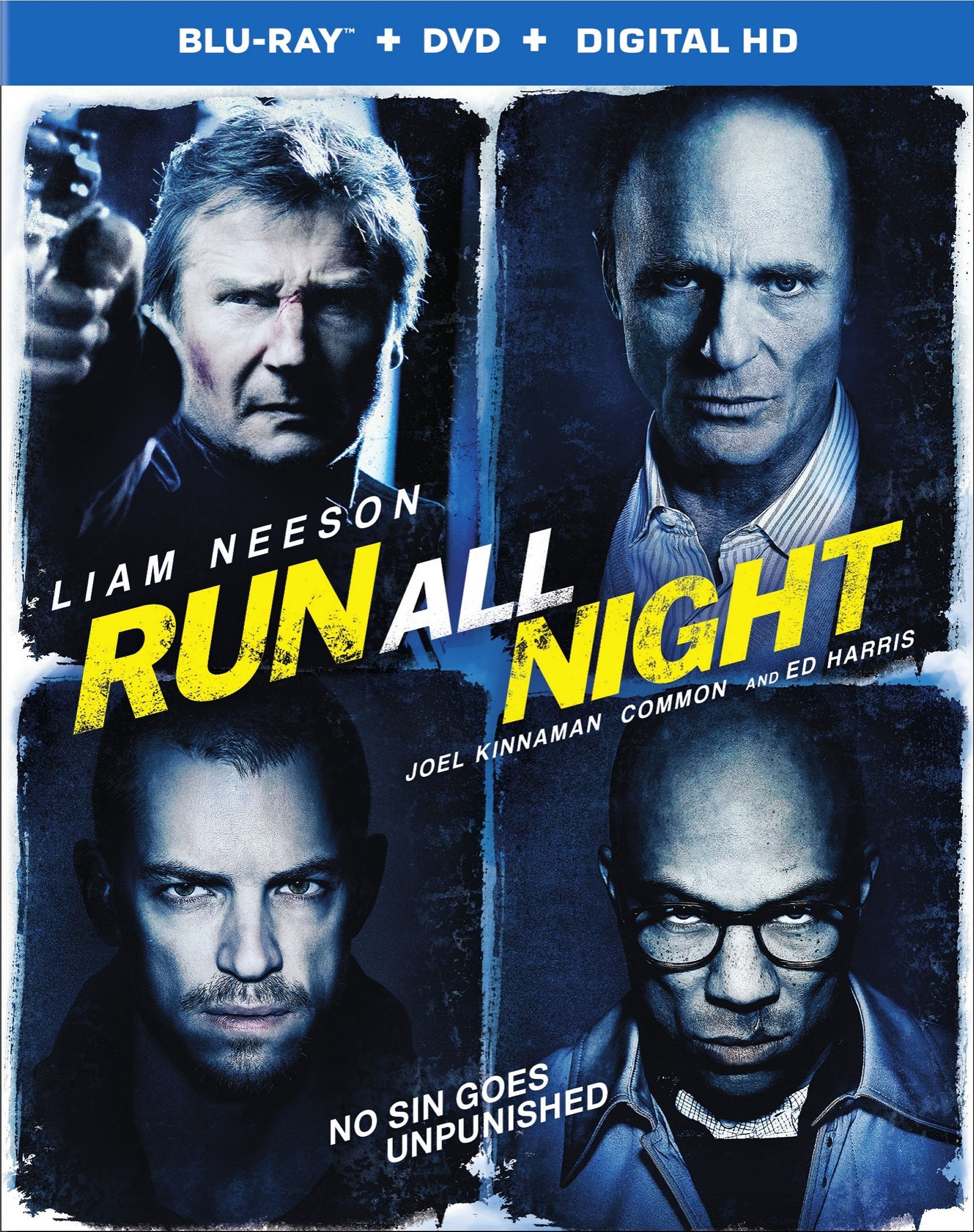 is the story of Jimmy Conlon (Liam Neeson), a wanted man who has turned to alcohol to cope with his life of crime. His friend and boss, Shawn (Ed Harris), is the leader of a crime enterprise. Jimmy is an alcoholic with no money. His estranged son, Mike (Joel Kinnaman) is a devout family man and full-time limo driver. When he picks up an extra shift, things go awry.
While Mike is waiting for the clients he picked up, who were on the way to a shady deal, they are shot dead by Mike's childhood friend, Danny, who is also Shawn's son. Having spotted Mike, Danny goes after him to silence him.
Mike narrowly escapes and heads for home. Danny calls his father to tell him Mike witnessed the murder. Shawn sends Jimmy to talk to Mike and keep him quiet, promising in return he will tell Danny to spare Mike's life.
Jimmy shows up at Mike's house and he agrees to keep quiet. Just as Jimmy is leaving he sees Danny's car parked outside.
Jimmy runs back in and catches Danny about to pull the trigger on Mike, so he fires first, killing Danny. In retaliation, Shawn feels he has no choice but to put a hit out on Mike. It's up to Jimmy to choose between his best friend and his son. Shawn pulls no punches, calling in a very skilled and dangerous assassin, Andrew Price (Common), to kill Mike and Jimmy before the night is over.
In order to survive the night Jimmy must reach out to the officer who has been trying to lock him up for years, Detective Harding (Vincent D'Onofrio), who will consider listening to him about Mike's innocence if Jimmy turns himself in for the crimes he's committed over the years.
Run All Night is a fast-paced action flick that does a good job of drawing you in, keeping you interested and on the edge of your seat. Some sections of the film try to build suspense but tend to slow down the pace of the film, which at times felt a bit too long. The dark but predictable plot of the movie is a classic and enjoyable ride.
Liam Neeson delivers a typically familiar performance for him based on his recent films. Joel Kinnamen does a great job in this role. He is really starting to prove he has the acting chops to be a leading man. Ed Harris is sinister, intimidating and brilliant as Shawn.
The Blu-ray has some really interesting features on it. They highlight the making of the film and how a lot of the action scenes were created and shot. There are several deleted scenes as a part of the extras as well. Watching those makes you realize that there could have been more taken out of the film. The deleted scenes don't really provide any additional plot to the film that would change the tone or the story. Run All Night is a good neo-noir action movie that provides you with action, although a familiar story.
Run All Night releases on Blu-ray, DVD and Digital HD today. ~Greg Chisholm
Also releasing on DVD today: Chappie, Unfinished Business, The Lazarus Effect, Beyond the Reach and Bravetown.
Watch the trailers:
Chappie
Unfinished Business
The Lazarus Effect
Beyond the Reach
Bravetown