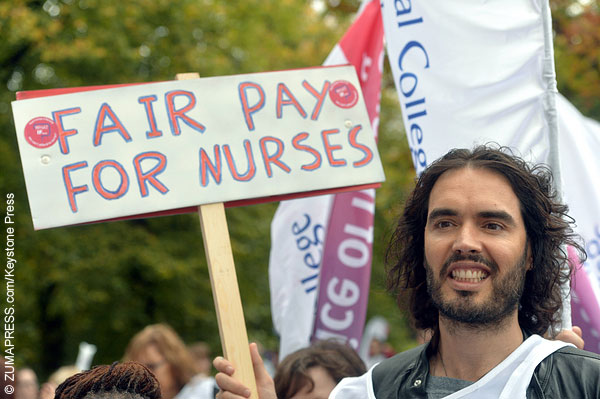 Russell Brand jokingly "slammed" Comic Relief in a rant after appearing at the charity fundraiser.
Speaking at The Proud Archivist cafe in London, Russell – who got a lot of laughs during the Comic Relief telethon – said: "Is it right to do Comic Relief? Plus is any f***er watching it? Those were the questions I was asking myself as I walked out confidently on to the Palladium stage. And the answer is, 'No, not really."'
According to The Sun, Russell also quipped: "Is charity part of the problem? Ultimately taking responsibility away from the centralized powers of created government, corporations, and alleviating that stress and tension by placing the burden once more on ordinary people."
Speaking at the event on March 13, the Get Him to the Greek actor, who has battled with drug addiction in the past, wisecracked: "I'm in the unfortunate position of having to ask you to donate money to buy syringes, literally the exact opposite of how I spend most of my time, and the previous two decades of my life."
However, the star got serious for a moment, admitting Comic Relief organizers have "good intentions." Russell helped the charity reach their goal this year of earning $1.5 billion in total over a 30-year period.
On March 18, Russell, who gives back to the community in many ways, led a "sleepover" protest in an attempt to save apartments from being demolished to make space for luxury homes. He told the Daily Mirror: "I'm here to prevent communities being broken up as part of a corrupt, indifferent government."
Last October, he joined thousands of people in marching with the Royal College of Nursing in London for the "Britain Needs a Pay Rise" event, a TUC organized march and rally to ask for fair pay for nurses.