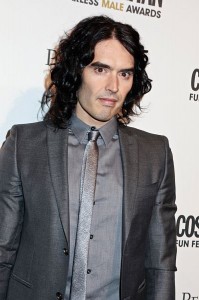 British star Russell Brand recounts his days as a notorious, sex-addicted playboy and how it helped him with his role in Arthur.
Russell Brand may be happily married to Katy Perry, but the outspoken Brit—known for his off-beaty, quirky sense of humor—admits that he wasn't always a one-woman kind of guy in Elle magazine. "A friend of mine once said, 'You are devoted to your lover of a thousand faces…If she's not there, you must call her, for you have to see her…three, four times a day — making love with your lover of a thousand faces,'" Brand, 35, says. "That's how he described my epic promiscuity. I was just as committed then to seduction as I am now committed to monogamy."
Brand says he knew he wanted to stop his wild ways and settle down as soon as he met Perry, 26. He admits: "I nearly asked her to marry me on our first date. It was like a hit of acid, a wave of confusion, emerging from under the water, a moment of Oh bloody hell, different perception for a moment, extraordinary. And then I thought, I'll give it space and see what happens."
Brand and Perry wed the end of last year in a lavish ceremony in India and says that he's head over heels for the pop star. "It's the most normal relationship I've ever had with anybody. She's very spirited, bighearted, innocent, but very, very smart. Someone told me that enlightenment is contingent upon being able to hold opposing views simultaneously. I'm actually attracted to that magnetism and sort of repulsion. She's endlessly fascinating…I was at a point in my life where I was ready to behave. I look at it the way I look at most things: One day at a time. I will say it's very, very rewarding and I love her."
Brand stars in the upcoming kids' film, Hop, in which he voices the adorable Easter Bunny. A very wholesome role for the star compared to his next film Arthur, in which he plays an alcoholic playboy that hits a little too close to home for the actor.
"It was very strange," he admits. "To get into character, but remain sober on set. I kept a little plastic bottle of booze around the set that I'd smell before each take. That really helped me because I've got huge emotional resources to call upon."