Ryan Reynolds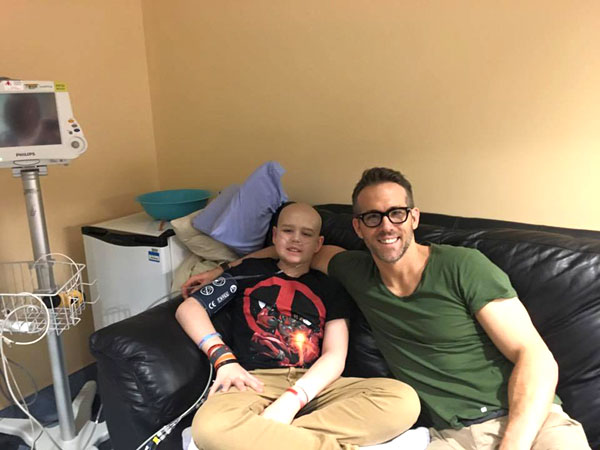 tore through several action sequences in this year's smash hit Deadpool,  but the hunky actor has just proven he can also pen a touching tribute.
Connor McGrath, a 13-year-old who unabashedly adored Ryan and his Deadpool film, lost his battle to cancer this week and Ryan honored the young boy with a heartrending Facebook post.
"For three straight years, my friend, Connor McGrath drop-kicked cancer… Not sure how… Maybe the cancer cheated… But the fight came to an end two nights ago," the 39-year-old actor wrote Thursday.
"In my wildest dreams, I can't imagine how hard this is for his parents Kim and Gerald – along with his extended family in Newfoundland."
Ryan continued: "Connor was 13. But this kid… He was smart. He was funny. And not just funny 'for a kid' – or funny 'for a person battling something awful.' He was unqualified funny. He had that… thing. That thing you see in great performers or comedy writers."
The Vancouver-born actor then lamented that Connor's death came "way too early" and that his passing is "impossible to reconcile."
Additionally, Ryan thanked those who cared for Connor as he courageously battled the merciless disease.
He also spoke of Connor's charming persona and described how he was put in touch with him.
"Connor was a great friend, a great son, and a light to the people lucky enough to know him. While repeatedly punching cancer in the balls, he made everyone laugh… It was the Make-A-Wish Foundation that brought us together. I can't thank them enough," he said.
"Because of his wish, Connor was the first person to see Deadpool. I traveled up to Edmonton, Alberta, to surprise him with a rough cut of the film. There were still huge sections with wires we hadn't yet painted out, jokes which weren't working (and still aren't) and green screens. Connor didn't seem to mind. And I'd never felt luckier to be Wade Wilson."
Ryan wrapped up his tribute to Connor with a humorous and sentimental note.
"I'm grateful I got to orbit Connor's world for a brief time. Grateful for the pages and pages of hilarious texts between us. Grateful to his parents for allowing Connor to spend time with a foul-mouthed child in the body of a 39-year-old," he said.
"I called Connor, 'Bubba.' And he called me 'Bubba2.' We met because he loved Deadpool… I wish he could've stuck around a lot longer. See ya down the road, Bubba."
~Matthew Pariselli