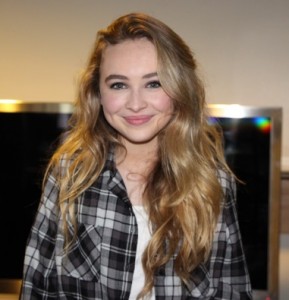 Disney darling Sabrina Carpenter took over the stage at Family Channel's Big Ticket Summer Concert last weekend. She's a real triple threat – singer, dancer and actress. She currently plays the rebellious Maya Hart on Girl Meets World alongside Ben Savage and Rowan Blanchard. We chatted with this 15-year-old powerhouse about her music and who she would love to collaborate with.
Is this your first time performing in Toronto?
Yes, I'm very excited.
And you're sharing the stage with Cody Simpson!
Yes, which is really cool. It's so cool they have different types of genres and people performing tonight. It's going to be a great concert.
Are you excited or more nervous?
More excited. Being there for sound check and seeing the whole empty arena is just so cool. And it'll be even cooler to see it all filled.
How would you describe your music?
I would describe my music as very organic. It's not anything specifically. It's not country, it's not pop, it's not rock or R&B. But it's a mix of genres, which I think is really cool.
Where do you find inspiration when you write a song?
I get inspiration from everyday life, maybe not necessarily just my life, but other people's lives and other people's stories. I get inspiration from movies that I see and books that I read, and I think the cool thing about writing is that there's no limits or boundaries, you can write about anything.
Is there anyone you would love to collaborate with?
I've said this a couple times but I love Adele and Christina Aguilera. They've been my influences ever since I was very little. I think Michael Bublé has a really cool voice. I would love to do a duet with him.
Last week I interviewed Ben and Rowan from Girl Meets World and they were talking about how great it is working with you. What is was like to star on a show with such iconic characters as Cory and Topanga?
It's so cool to be a part of their continuing story because I bet a lot of people wondered what happened to Cory and Topanga when they grew up. I know I did. And it's cool that I get to be a part of their grown-up story and it's something really unique that you don't get to see very often.
Did you see Boy Meets World before?
Every episode. I promise. I was born when the show ended but I definitely saw all the re-runs.
Did you face any challenges?
I think a lot of people put pressure on us. We didn't really feel it though. We were more just excited to be here, excited to be making the show that so many people were excited about and, thankfully, we have the producer that we do and we have the writers that we do who are staying true to the old show and so are we, but we're also telling a new story for a new generation and that's also what's unique about the show.
How has the show inspired you in making your music?
I think it definitely has. I wrote a song inspired by my friendship with Rowan. I've written stories inspired by episodes we've done. So it's really cool to have that every week.
Tell us about your latest single – In the Middle of  Starting Over. It's a very interesting title.
Yes. Well, if you can guess what it's about, it's about being in the middle of a new situation, you know, maybe you're moving – that's kind of like what my situation was about. I moved from Pennsylvania to California, so it's kind of like taking on a new situation but not being afraid to try new things.
How do you handle it all? You're a triple threat – you do singing, songwriting, you're an actress…
I do dancing, too. (Laughs)
And a dancer! So how do you handle it? You must have a really crazy schedule!
I think it's balanced fairly well. I've got my family with me. If it's ever too much, I'll say, "stop," but right now, I just kind of want to keep going.
What's next for you?
Well I'm working on music, doing a little bit more touring at the beginning of this new year and I'll be filming season two of Girl Meets World and hopefully lots of other things.~Marriska Fernandes
Photo Courtesy of Zara Rasquinha.