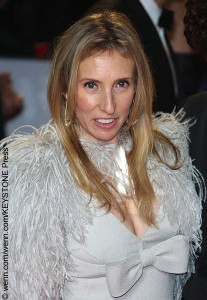 The sequel to the record-breaking BDSM motion picture Fifty Shades of Grey is in the market for a new director. Sam Taylor-Johnson has officially announced she will not be returning to the director's chair.
"While I will not be returning to direct the sequels, I wish nothing but success to whosoever takes on the exciting challenges of films two and three," Sam said in a statement. "Directing Fifty Shades of Grey has been an intense and incredible journey for which I am hugely grateful. I have Universal to thank for that. I forged close and lasting relationships with the cast, producers and crew and most especially, with Dakota and Jamie."
Sam's exit likely doesn't come as much of a surprise after numerous reports of the creative clashes between Sam and author E.L. James, right down to the final scene of the film. However, under Sam's direction, Fifty Shades of Grey went on to gross over half a billion dollars worldwide, since its February 13 release.
With the DVD release expected for May 8, sales are expected to also soar. ~Sandra D. Sukraj