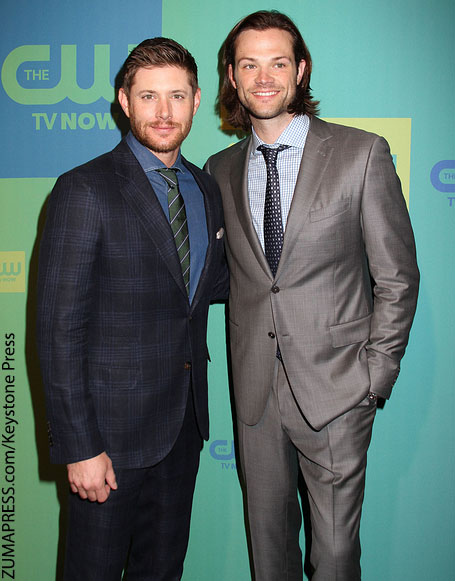 After watching the premiere of Star Trek Beyond on Thursday, Trekkies unite once again today at the celebration of the show's 50th anniversary. Come commemorate the event along with cast members from each installment, such as William Shatner and Jeri Ryan. Saturday is also jam-packed with other highlights, including the stars of Once Upon a Time, Gotham, and SuperGirl!
Then look forward to Sunday's highlights, including the cast of Supernatural, and its stars Jensen Ackles and Jared Padalecki (pictured at left).
SATURDAY, JULY 23
10:00 am: Once Upon a Time (ABC) – Jennifer Morrison, Robert Carlyle, Lana Parrilla, Josh Dallas, Emilie de Ravin, Colin O'Donoghue, Rebecca Mader and Jared Gilmore with executive producers Edward Kitsis and Adam Horowitz. Moderated by Yvette Nicole Brown. (Ballroom 20)
11:00 am: The Vampire Diaries (The CW) – Cast and EPs TBA. (Ballroom 20)
11:15 am: All That and Legends of the Hidden Temple (Nickelodeon) – Josh Server, Danny Tamberelli, Lori Beth Denberg and Kel Mitchell. Plus, a first look at Nick's new TV movie based onLegends of the Hidden Temple with Kirk Fogg and Dee Bradley Baker, along with Isabela Moner. (Room 6A)
12:00 pm: Blindspot (NBC) – Sullivan Stapleton, Jaimie Alexander, Rob Brown, Audrey Esparza and Ashley Johnson. (Indigo Ballroom)
12 pm: The Simpsons (Fox) – Creator Matt Groening, executive producers Al Jean and Matt Selman, supervising director Mike B. Anderson, director of The Simpsons Movie David Silverman and voice of Bart Simpson, Nancy Cartwright. (Ballroom 20)
12:50 pm: The Originals (The CW) – Cast TBA. (Indigo Ballroom)
1:00 pm: Family Guy (Fox)  – Voice cast Alex Borstein and Mike Henry. (Ballroom 20)
1:30: pm Lucifer (Fox) – TBA cast and EPs Joe Henderson and Ildy Modrovich. (Indigo Ballroom)
1:45 pm : American Dad! (TBS)  – Voice cast Scott Grimes, Dee Bradley Baker, Rachael MacFarlane and Wendy Schaal. (Ballroom 20)
2:00 pm: Star Trek 50th anniversary – Original star William Shatner, Enterprise's Scott Bakula, The Next Generation's Michael Dorn and Brent Spiner, and Voyager's Jeri Ryan. Moderated by new series EP Bryan Fuller. (Hall H)
2:10 pm: Gotham (Fox) – Cast and EPs TBA. (Indigo Ballroom)
2:30 pm: Grimm (NBC) – David Giuntoli, Russell Hornsby, Bitsie Tulloch, Silas Weir Mitchell, Reggie Lee, Sasha Roiz, Bree Turner and Claire Coffee join and executive producers Jim Kouf and David Greenwalt. Also features an exclusive first look at new NBC dramas Emerald City and Midnight, Texas. (Ballroom 20)
2:30 pm: Vice Principals (HBO) – Cast member Walton Goggins and creators and executive producers Danny McBride and Jody Hill. (Horton Grand Theater )
2:30 pm Wynonna Earp (Syfy) – Melanie Scrofano, Tim Rozon, Shamier Anderson, Dominique Provost Chalkley and Katherine Barrell with creator Beau Smith. (Room 24ABC)
3:00 pm: The Expanse (Syfy) – Stars Thomas Jane, Steven Strait, Shohreh Aghdashloo, Dominique Tipper, Wes Chatham, Cas Anvar and Frankie Adams.
3:30 pm: Supergirl (The CW) – Cast TBA. (Ballroom 20)
4:00 pm: The Magicians (Syfy) – Jason Ralph, Stella Maeve, Olivia Taylor Dudley, Arjun Gupta, Hale Appleman, Summer Bishil, Jade Tailor and Rick Worthy. Moderated by author Lev Grossman. (Indigo Ballroom)
4:00 pm: Dirk Gently's Holistic Detective Agency (BBC America) – Elijah Wood, Samuel Barnett, Hannah Marks, Jade Eshete and showrunner Robert Cooper. (Room 6BCF)
4:15 pm: DC's Legends of Tomorrow (The CW) – Cast TBA. (Ballroom 20)
4:15 pm: Timeless (NBC) – Abigail Spencer, Matt Lanter, Malcolm Barrett and Goran Višnjić. (Room 6A)
5:00 pm: The Flash (The CW)  – Cast and EPs TBA. (Ballroom 20)
5:00 pm: Son of Zorn (Fox) – Cheryl Hines, Tim Meadows and Johnny Pemberton. (Indigo Ballroom)
5:15 pm: Outcast (Cinemax) – Creator and executive producer Robert Kirkman and cast members Patrick Fugit, Philip Glenister, Wrenn Schmidt, Reg E. Cathey and Brent Spiner. (Room 6BCF)
5:45 pm: Arrow (The CW) – Cast and EPs TBA. (Ballroom 20)
6:00 pm The Last Man on Earth (Fox) – Will Forte, Kristen Schaal, January Jones, Mel Rodriguez, Mary Steenburgen and Cleopatra Coleman. (Indigo Ballroom)
6:30 pm: Riverdale (The CW)  – Cast TBA. (Room 6BCF)
6:45 pm: Ash vs. Evil Dead (Starz) | Bruce Campbell, Lucy Lawless, Dana DeLorenzo, Ray Santiago, Lee Majors and Ted Raimi with executive producers Rob Tapert and Sam Raimi. (Room 6A)
7:00 pm: Designated Survivor (ABC) – Pilot screening followed by a Q&A with: Kiefer Sutherland, Maggie Q, Kal Penn and some surprise guests. (Horton Grand Theatre)
7:00 pm: Geeking Out (AMC)  – Kevin Smith's annual panel will include a sneak peek ofGeeking Out and a compilation of Kevin's favorite scenes from Season 5 of Comic Book Men. (Hall H)
7 pm Incorporated (Syfy) – Pilot screening (Indigo Ballroom)
7:25 pm: Frequency (The CW) – Peyton List, Riley Smith and Mekhi Phifer, and EPs Jeremy Carver and Jennifer Gwartz. (Room 6BCF)
8:20 pm: Time After Time (ABC)  – Freddie Stroma and Genesis Rodriguez with EPs Kevin Williamson and Marcos Siega. (Room 6BCF)
10:00 pm: Ash vs. Evil Dead (Starz)  – Season 2 premiere screening (Room 6DE)
SUNDAY, JULY 24
10:00 am Sherlock (PBS)  – Amanda Abbington and producers Mark Gatiss, Steven Moffat and Sue Vertue. (Hall H)
11:15 am Supernatural (The CW)  – Jared Padalecki, Jensen Ackles, Misha Collins and Mark A. Sheppard with co-showrunners Robert Singer and Andrew Dabb. Moderated by actors Rob Benedict and Richard Speight, Jr. (Hall H)
12:30 pm: Fox's Action Showcase: Prison Break and 24: Legacy  – Wentworth Miller, Dominic Purcell, Sarah Wayne Callies and Robert Knepper. (Hall H)
2:00 pm Anything Goes With John Barrowman – A panel featuring the actor-singer-dancer. (Room 6BCF)
3:15 pm Buffy the Vampire Slayer: Once More With Feeling – An interactive screening of the Buffy the Vampire Slayer musical episode, with Juliet Landau and a surprise guest. (Room 6BCF)