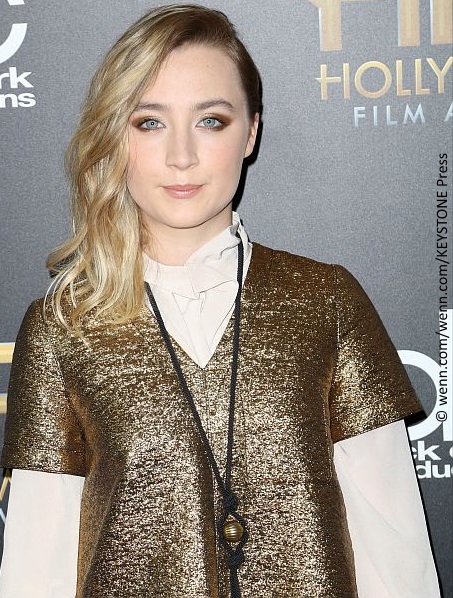 Saoirse Ronan's upcoming immigrant tale Brooklyn is, in some ways, her own Irish-American journey that will resonate with many. Well-received by audiences and critics alike at the Toronto International Film Festival, Brooklyn tells the story of Eilis Lacey in postwar Ireland who is given the opportunity to move to America and start a new life. Finding herself in a strange new city is quite a challenge. She connects with a bright young Italian man named Tony, but when a tragedy draws her back home, she is faced with a tough choice once again.
Saoirse performs remarkably in this tale of finding a place to call home. We caught up with the 21-year-old actress to discuss her own journey. 
Can you talk about the relationship between you and Eilis? How similar are you to her?
I was born in the Bronx. My parents went to New York in the '80s. There was a really bad recession in Ireland at the time. So a lot of young people went to New York. The Irish always go to New York, or somewhere on the East Coast. So anyway, they went over in the '80s. They worked very hard. My dad did lots of different things. He worked on construction and things like that. Eventually he became a bartender and earned good money on tips.
My mum was a nanny. She looked after loads of different families at one time. And then these Irish actors would go into my dad's pub after a performance and so one of them asked Dad one day to audition for a play. My dad thought that was ridiculous. He wasn't an actor and had never even been to see a play, but they persuaded him and he went for this role in a Hugh Leonard play and he got the part and he became an actor and eventually, you have to decide between one or the other and Mum really encouraged him to go be an actor because he really loved it. And when I was three, we moved back home.
This film is a really lovely film to be involved in with. It's like my heritage really and it's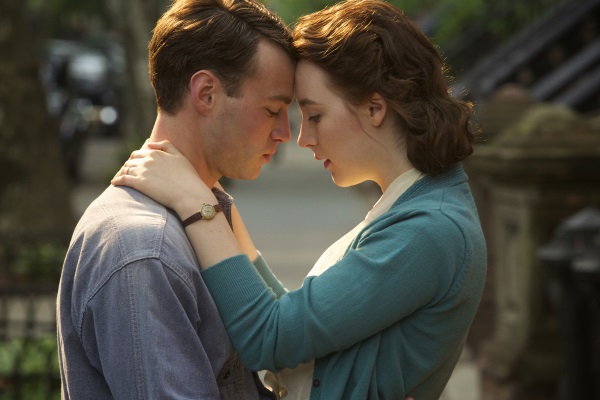 a lot of people's heritage. What's interesting is the whole way through I always thought it's an Irish film, it's for Irish people and I was very proud of that and it is, but then we went to Sundance and the reaction we got from people who had no connection to Ireland at all who had either just moved out of their parents' house and gone to college or their child had moved away to school or they had just gone through that experience of a loss of a sense of home, which I think we have all gone through and I had gone through when I had moved away to London. And it was hard, and it was amazing and it was very exciting but it was scary and it could be lonely, but you know you can't go back. You can't take a step back once you've made that trip, and Brooklyn just really, really got that.
I have always played vampires or someone who is dead or you know, someone who's a complete corpse and someone who is in a completely different situation to me and then to come back to home was very overwhelming.
You said your mum found her independence in the movie. Your character finds her independence too. Did you bring your personal independence that your mum found?
I think I did and I don't think I realized it at the time, but we did publicity in Ireland about a month ago and one of the journalists that I've known since I was a kid said to me that he watched us and my dad is an actor so people would have seen him in different things at home, but Mum was always the one who came away with me and is very much a huge influence on who I am and he said he watched it and it was the first time where it wasn't even about me and it wasn't about Dad but it was my mum on screen and it was very much channeling my mother and what she went through. She is a fiercely independent person and New York really made her who she was.
Can you talk about the costumes in the film and the transformative nature of that in our lives?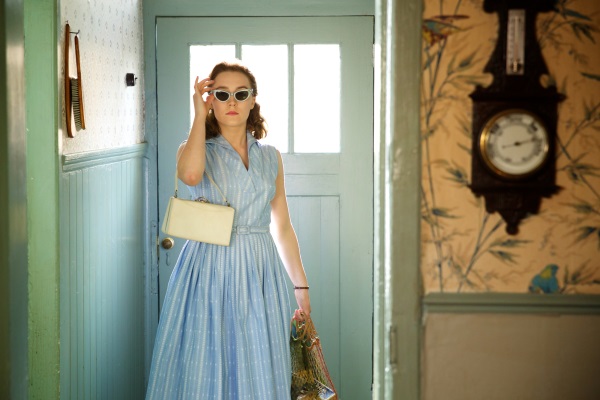 Yeah, absolutely. It was a huge influence on the source of the arc that Eilis has. The beauty of this film is that is very subtle. There are lots of underlying themes and it's only really when she goes back home and we see her compared to everyone else that she has kind of come out of herself. She is a little more comfortable in the clothes that she wears. She wears her swimsuit underneath her clothes. She is prepared and you see the sunglasses. The sun doesn't exist in Ireland (laughs). Nobody knows what sunglasses are. What are these things you speak of? I do think in this the fashion was a huge part of it and the shape of the '50s clothes really encouraged women to have a womanly figure you know, because you have big skirts and floppy blouses. More so than now, women were encouraged to have boobs and a bum and legs and hips and that has definitely changed now I think a little bit, but it was the first time I got to play a young woman and I was ready for that. There was definitely a period of like a year or so where I'd go for a meeting and people, the last thing they'd remember me from was like something I did when I was 15 so to then get a chance to do this in Brooklyn was great in every sense. When it came to the drama of it, it was very mature and it was very much where I was at that point in my life, which I think is what made it all kind of sometimes too much too take.
You live in Britain – have you ever been tempted to move to the U.S.?
I'm moving next year to New York. For me New York, it was always where I wanted to go. When I was 19 I wasn't ready to go there yet. I knew it was going to be a big shift to move away from home. I didn't realize how much until I actually was living on my own. But I was glad I went to London first because it's a better stepping stone and it's closer geographically. There is no other city that I feel comfortable in than New York.
Why so?
New York has always been a part of me. It's just one of those places. There is a huge part of me that feels very American. I really relate to America. And there is a lot of me that's very Irish and very different too. But I can appreciate America and as I said I feel like it's never really left me. I have very vivid memories of it when I was three years old in New York. And so I think no matter what, even if you have only lived in a place for a couple of years, to go back there when you're older, that city has a hold on you and it either does or it doesn't and with me it does.
What was your first impression of New York as an adult?
I just loved it straight away. I really did. I remember we were doing The Lovely Bones in Pennsylvania and we went there for the weekend for Thanksgiving and it was mental because we went on Black Friday. We went to a Nicks game and you know, did stupid touristy things, but the feeling I got from it was it just felt right to be there and a couple of years later, I did a film there and loved it even more. And I've just done another film there and then I'm doing a play there next year.
Did you enjoy shooting in Montreal, which stood in for Brooklyn?
Yes, it was so brilliant. Montreal doesn't even feel like a city, it's just like a big little town. It's so beautiful and the Quebec community are so Quebecois and so proud and I love it. We went to McGill and the crowd was so lovely.
Thanks for chatting with us!
Thank you!
~Marriska Fernandes