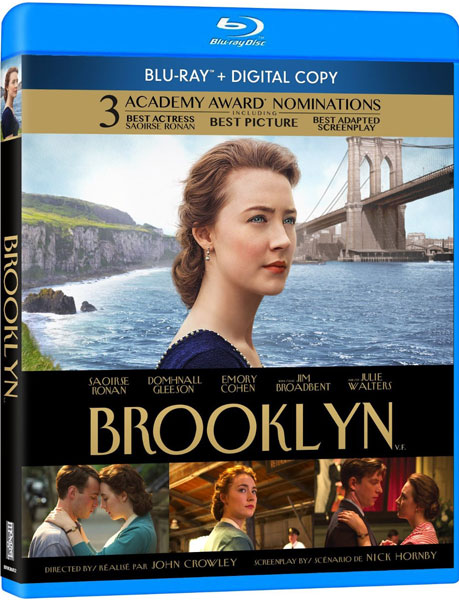 In the Oscar-nominated film Brooklyn, we find a heartfelt drama to which many can relate. It's a simple plot about leaving home and finding your place in the world and the film is beautifully done, with superb writing and a performance from Saoirse Ronan that doesn't require histrionics, but rather, understated emotion. Eilis is a soft-spoken young girl and she feels things deeply, and Saoirse's depiction is so moving that the audience is driven to feel enormous empathy.
In the beginning, Eilis leaves her beloved family, because there are no opportunities for her in Ireland. An Irish priest (Jim Broadbent) based in New York has a place for her to live and work in Brooklyn, so she sets off for America. Eilis lives in a rooming house with other young Irish women, but she's so soft-spoken and so unhappy that she doesn't make any friends.
She can barely come out of her shell enough to properly do her job and finally, she breaks down. Although not all of us have had the experience of moving to a strange place alone, where we have to find new friends and a new job, we all struggle to fit in at some point in our lives — and to feel happy and fulfilled. So when Eilis struggles, we feel her pain.
She slowly finds her way — after enrolling in night school to study bookkeeping, she meets a young Italian man named Tony (Emory Cohen) at an Irish dance. Tony is good-natured guy who is completely smitten with Eilis, although she's reluctant to take him seriously at first. He's persistent, however, and the two fall in love. Tony begins to talk about the children they'll have, and where they'll live, and although that prospect overwhelms Eilis at first, she begins to see how America could become her home.
Emory Cohen is charming as Tony, who seems to fall in love with Eilis at first sight. He doesn't want to scare her off, so he treads carefully and is happy for any sign that Eilis might like him in return. Tony brings joy, warmth and fun to her life and it's easy to see why Eilis falls in love with him.
When Eilis receives news of a tragedy in the family, she has to return home to Ireland for a visit, much to Tony's dismay. When she gets there, she finds that things have changed in her absence. With her bookkeeping skills, she's asked to fill in for a few weeks at a company. Her best friend introduces her to a young man named Jim Farrell (Domhnall Gleeson), who shows interest in Eilis. She enjoys his company and it tears her apart as she wonders why didn't things go this way before she went away to America?
On one hand, she has cheerful, good-natured Tony, whom she loves, anxiously waiting for her return. On the other hand, if she stays in Ireland, she has her mother who needs her, a potential job and her old friends, as well as all that's familiar. The choice she has to make is heartbreaking. Saoirse's performance tugs at the heartstrings and although she's surrounded by a strong cast full of colorful characters, she more than holds her own.
Special Features on the Blu-ray include six featurettes: The Story, Home, Love, Cast, Making of and Book to Screen, as well as Deleted and Extended Scenes.