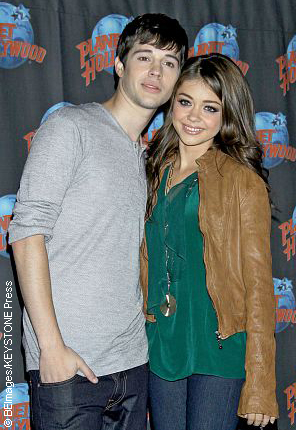 Modern Family star Sarah Hyland has filed a temporary restraining order against her ex-boyfriend Matt Prokop over alleged physical and verbal abuse. According to a report from TMZ, the court documents filed by Hyland says Matt, who appeared in an episode of Modern Family and has also had roles in High School Musical 3: Senior Year and the TV series Hannah Montana, physically choked her and threatened her. "His grip was so tight that I could not breathe or speak. I was scared and in fear for my life," Sarah wrote in court documents obtained by TMZ.
The documents mention several instances of abuse between Matt and Sarah. Sarah says she bought Matt, who came to Los Angeles in pursuit of an acting career at age 16 from his native Texas, a plane ticket to go back home, but when he saw she'd enlisted the help of Modern Family co-star Julie Bowen, he threw a lighter at her. Other incidents include a threat to set her house on fire and threats against her dog. "[He] relentlessly bombarded me with vile, threatening and emotionally disturbing texts and voice mails including his own suicide threats," Sarah wrote.
Matt was recently released from a rehab facility he entered in August. In the document, Sarah says the facility director advised her to get the restraining order.
Sarah's attorney released a statement to The Daily News regarding the incident: "The documents filed speak for themselves. Out of respect for the court, the process and all parties, I have advised Ms. Hyland not to comment on the matter. We request that you respect the parties' privacy during this time."
There has been no word from Prokop or his lawyer's regarding the restraining order or abuse claims. ~Kelly Townsend