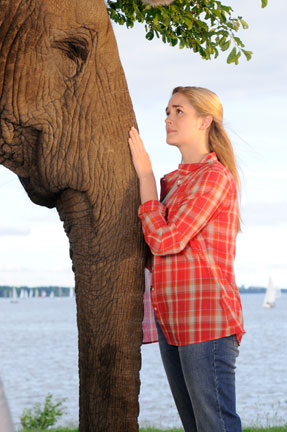 Brittany Bristow has always been a performer. The 21-year-old Toronto native began her career in the spotlight doing television commercials as a child and went on to train with the National Ballet of Canada, performing alongside world famous dancers and artists. But for Bristow, her love for dancing is equally shared with a passion for acting. After making a few movie and television appearances, including a starring role on the Family Channel series Baxter, Bristow brings her acting chops to the big screen with the release of Sophie, directed by her father, Leif Bristow. The film tells the story of a young ballerina, Sophie, who runs off and joins the circus in an attempt to save her best friend Sheba, a five-ton elephant, who was sold by her parents to cover the rising costs of dance training. But for Sophie, the task of setting Sheba free proves to be harder than she ever could have imagined.
Tribute had the opportunity to sit down with Bristow to talk about making the film, landing her first lead role, and having dad around for it all.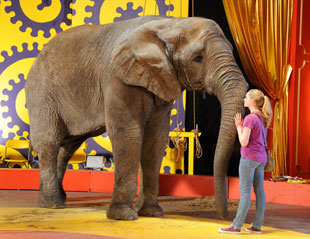 Did you find that you could relate to your character Sophie?
Bristow: I'm a professionally trained modern and ballet dancer and so in that sense, I totally understand the dedication and the drive for wanting to do something. [Sophie] sort of stops at nothing to achieve what she thinks is right. And I feel like we're both very similar in the sense that when we really love something and really want to protect someone or something, we'll do everything we can.
Was it really as much fun as it looked on the circus set?
Bristow: I think what made it so much fun was the people that I got to work with. And getting the chance to work with Zero Gravity Circus, which is actually a circus here in Toronto. They were amazing! Jen [Georgopoulos], who does a lot of the stunts, she's one of the top 10 trapeze artists in the world and I trained with her personally for my silks performance. And the design of the circus alone. It felt like I was literally on the grounds of a real circus everyday. When we were in Hamilton we actually had security there 24/7 because people were coming to the set asking when the circus was opening because they thought it was really there.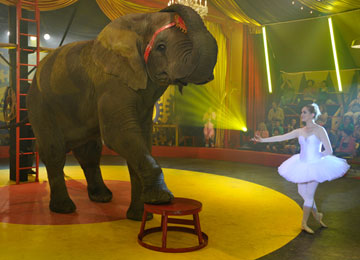 What was it like being directed by your dad?
Bristow: Working with my dad was great. On the last day of filming, two people from two of the largest departments on set had no idea that we were related. So I think it really shows just how professional we were able to be with each other. If I can't vocalize exactly what I'm trying to say to him, or if he can't completely vocalize what he's trying to say to me in terms of what we want from each other on set, we still had the ability to understand each other because we've known each other for, you know, my whole life. So, it was really good!
Was it awkward having him there when you were shooting the more romantic scenes with Augustus Prew?
Bristow: So awkward! I was like, "Is there any way somebody else could direct, just the one scene? Or just close your eyes when we're taping." But you know what, we got through it. It worked out.
What was it like having to yell at John Rhys-Davies?
Bristow: I think that was probably one of the most intimidating moments for me on set because I grew up watching Indiana Jones. But he sat down with me and he said, "Okay look, I don't care. Just get mad at me. Just get mad. I don't care." He's such a kind person and luckily I had some time to work with him before that big scene came so I really got a chance to get to know him. And he is possibly one of the kindest, most generous actors I have ever worked with. All he wants to do is help you shine when you're on. And we really worked together and talked about what was going through our minds in that scene. We did everything we could to make it as explosive as possible.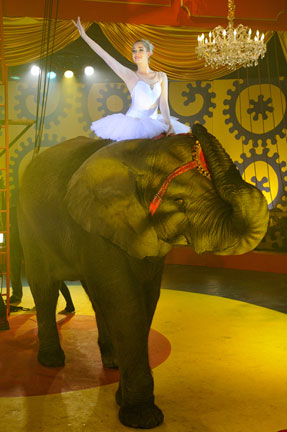 Do you have any previous experience working around animals?
Bristow: I did my first commercial with another elephant from the Bowmanville Zoo, Angus, when I was nine. Then I sort of kept going out there and visiting. And then when we did Blizzard, we actually had a herd of reindeer. I think it was something like 32 reindeer and they live at the Bowmanville Zoo. So I spent a lot of time going up there to work with the reindeer.
What was it like having an elephant as a co-star?
Bristow: Actually Sheba was great. Sheba never missed her mark. She was very protective of me. I worked with her for three months before we started filming. I was out at the Bowmanville Zoo two to five hours a day. Even when I go out there now, she still squeals and expects her jellybeans and gets really excited.
Did you have to do any special training with her?
Bristow: Honestly, I don't know why but I'm so darn comfortable with them that I just sort of knew. Angus was about three feet taller than Sheba and I worked with Angus when I was a lot smaller. So for me, I had that comfort already of getting up and learning how to mount and dismount the elephant. The only thing I really had to learn was how to slide off of her head. But I did that the night of.
How long have you been dancing and why the switch to acting?
Bristow: I started studying at the National Ballet School when I was 12 and I graduated from there in 2008 when I was 18. When I graduated I knew that I didn't want to pursue a professional ballet or modern career. I knew that what I wanted was to act. But I felt like with being at the ballet school, I had learned so much and there was such a passion inside of me. And so much of ballet is telling a story but without using words so it's almost more difficult and you learn how to express yourself in such a beautiful way. I think it's only fuelled me to be better at what I do as an actor.
How long did you train with Zero Gravity before you were actually ready to begin filming?
Bristow: I trained for about 3 weeks with the circus. I think because of my dance training though, I had sort of that technique. It was just a matter of getting comfortable in the silks themselves.
What kind of message do you hope people will take away from this film?
Bristow: For me, a lot of what Sophie tells you is that when you have a passion for something, a determination, you're sort of able to make your dreams reality. And I think learning and constantly being open to understanding how other people are seeing things is a very valuable thing to know. I know my dad would say something different but for me, a lot of it is that if you truly believe in something, and you have the drive, there's really nothing that can stop you.
What's in store for you next?
Bristow: I'm keeping myself as busy as humanly possible. I have a part-time job, I'm going to school part-time, I'm auditioning, I'm learning how to produce with my dad. Acting is what I want to do for the rest of my life and I have the drive to do it. So much of this business is luck. So I'm hoping that I get lucky. ~Soriyya Bawa