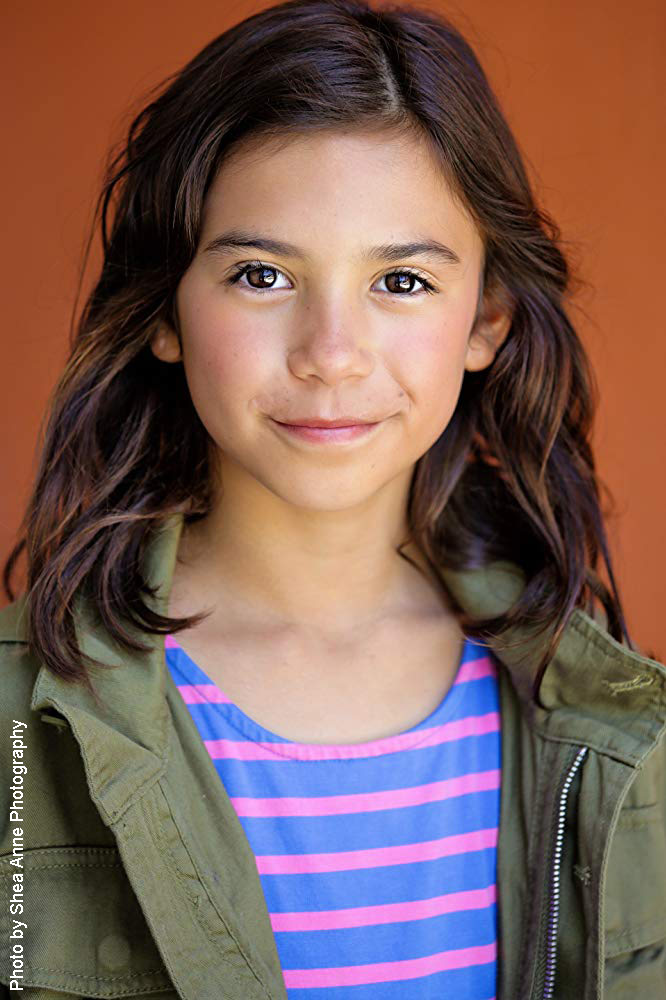 Scarlett Estevez is a busy young actress, with recent roles in the Daddy's Home movies as Mark Wahlberg's daughter and in the Fox TV series Lucifer as Trixie. She also provided the voice of Izzy for the animated film Dr. Seuss' The Grinch, which releases on Blu-ray Feb. 5. She chatted with us by phone about the Christmas-themed animated movie, and revealed what Christmas is like at her house.
Hello Scarlett, it's a pleasure to talk to you today!
Hi, you too!
Great job voicing the character Izzy in The Grinch. How did you prepare for it?
Well, I saw The Grinch, the original one, well, not the original one, but the one with Jim Carrey a lot, so I kind of knew the basis of the movie. It was really cool because when I was going into the recording booth I had the director on Skype with me so he told me how to deliver my lines. I had lines that were specific for me to say, it wasn't like I was doing improvisation, I kind of knew what I was supposed to do.
Did you feel like you had more of a connection to your character Izzy or to your character Megan in the Daddy's Home movies?
Well, I have similarities and differences to both of those characters. Like, Megan is very out there. She's really independent and stuff. Like, in the second movie when she shot the turkey, I would never do that myself because I'm a pescatarian and I love animals. And then with Izzy, I feel like she's kind of the brains of her friend group and in my friend group, I'm kind of like class clown. But how they're sweet and loving, like how they love their families, I feel like we have those things in common.
In the movie, the Grinch wants to ruin Christmas. If you could ruin Christmas, how would you do it?
I'd probably first track down the houses where I wanted to steal their presents. I'd look up people's lists and see what they're going to ask for and then go to those houses so I could get those good presents.
Smart thinking! Have you ever tried to play a trick on Christmas, like hiding presents or finding presents early and opening them up?
One time I tried to find them, but I couldn't find them.
Have you ever been on Santa's naughty list?
Probably sometimes I could have earned my way onto the naughty list but I've never gotten coal in my stocking.
What was your favorite Christmas present of all time?
My favorite was probably from my neighbor, he got me a chameleon and that was pretty cool.
That is cool! Who's your favorite character from The Grinch and why?
My favorite is probably the reindeer that the Grinch found because he was very funny.
What's the craziest thing you ever asked Santa for and did you get it?
One time I asked Santa to grab me a star from the sky and I got a book of star stickers. I put them all over the place. I put them on my drawers and then I couldn't get them off.
What do you think children will learn from watching this movie?
I think the whole lesson at the end, like how the Grinch gives the presents back, I feel like it has a really good message behind it. And I feel like the message isn't too hidden, but they're also not trying to be too obvious. It really is a good message, so if kids are ever thinking of doing anything mean, if they watch the movie they'll see how the Grinch is at the end, I think it could teach them a good lesson.
Do you have any dreams or goals you want to achieve in your career?
Right now on my bucket list since I already crossed animation off the list, I'd like to do a sci-fi movie. I'd like to play a superhero or somebody who has superpowers. That would be really cool.
That's fun, what kind of superpower would you want to have?
I like shape-shifting a lot. It's cool.
So cool! What's next for you?
Well, pilot season is coming, which means there's going to be a lot of auditions coming, so I'm excited for that to see what comes my way.
Do you think there's going to be a Daddy's Home 3?
I don't know, but the director said that if there was going to be one, it'd probably be when I was older.
I hope it happens—those movies are so funny. Do you want to pursue acting for the rest of your life? Or is there something else you'd like to do when you grow up?
I'd like to pursue acting for as long as I could.
Thank you so much for chatting with me and best of luck during pilot season!
Thank you, thanks a lot!
Dr. Seuss' The Grinch is now available on Digital, DVD and Blu-ray.