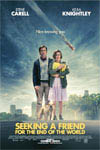 In Seeking a Friend for the End of the World, Dodge (Steve Carell) is driving in a car with his wife when it's announced on the radio that the world is coming to an end. It seems there's a 70-mile wide asteroid named Matilda that will hit the earth in a matter of weeks, killing everyone on the planet. His wife opens the car door and flees, never to be seen again. Lonely, Dodge goes through the daily motions in the days to come but around him, people are losing hope and jumping from buildings, or acting like buffoons by doing every immoral act they can think of, while others, like his housekeeper, don't seem to understand what's going on. When he tells her she doesn't need to come clean his apartment anymore, she gets upset, thinking she's being fired.
One night, he spots Penny (Keira Knightley) crying outside his window and lets her in. She turns out to be his neighbor, who just wants to go home to England to be with her family one last time before the world ends. When she returns to her apartment, Penny hands Dodge months worth of mail that were delivered to her mailbox by accident. While going through the envelopes, he finds a letter that arrived three months ago from his high school sweetheart, Olivia. She says she's just gotten divorced, misses him and wonders if he feels the same. Penny decides Dodge has to find Olivia, while he tells her he has a friend with a plane who can get her home.
The story is interesting, but somewhat slow moving, though the performances by the lead actors are worth the watch. Special features include A Look Inside Seeking a Friend for the End of the World; Music for the End of the World, in which the stars talk about what music they'd play if the world was coming to an end and Outtakes.
Other DVDs releasing this week include: Magic Mike, Abraham Lincoln: Vampire Hunter, Tyler Perry's Madea's Witness Protection, Savages and more.