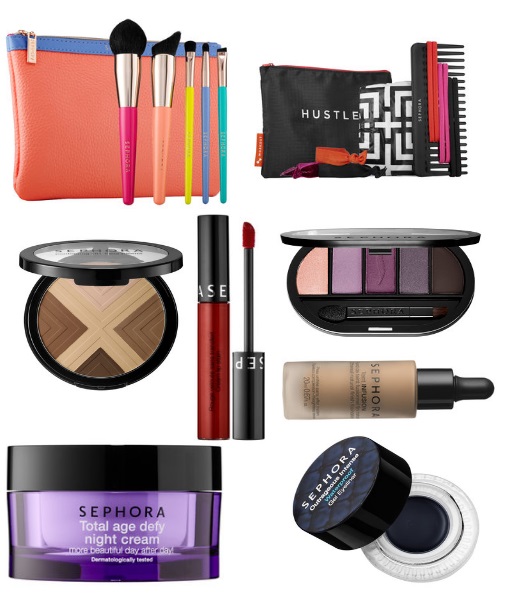 In the midst of icy cold temps, spring seems distant and almost surreal. However, we can enjoy the fresh shades of spring beauty with a look at Sephora Collection's new Spring 2015 lineup. The collection includes expertly designed makeup brushes & brush sets, rich & reflective palettes of color, tools & accessories, and advanced skin care to streamline your cleansing routine. Sit back with a cup of hot chocolate and let's take a look at Sephora's effortless beauty stash, which is now available in stores.
Sephora Collection Color Spring 2015
Perfect palettes, metallic eyes and radiant lips take center stage to define this season's trends. The Sephora Collection Contouring 101 Face Palette ($35) gives you the tools to sculpt and highlight like a pro. Complementing any skin tone, the colors tune in with spring's tribal patterns.
For well-defined eyes, Sephora Collection offers an Outrageous Intense Waterproof Gel Eyeliner ($18), which is long-lasting due to the built-in primer + color. The Universal Brow Freeze ($13) and Colourful 5 Eyeshadow Palette ($31) give your eyes the X factor for a radiant and beautiful brow look.
The Sephora Collection Cream Lip Stain ($16) offers 14 cult favorite shades including Infinite Rose, Always Red and Coral Crush. These matte finish lip stain formulas are the real deal for soft and luscious lips. The Teint Infusion Foundation ($30) is a lightweight serum foundation that melts into the skin for a fine finish.
Sephora Collection Makeup Brushes and Brush Sets
To master the art of contouring and to define cheekbones, precise brushes are key. Sephora brings a series of master brushes to change the way you apply makeup. The Pro Contour Blender Brush #77 ($43) and the Pro Airbrush Blender Brush #78 are among my favorites. If selecting a single brush leaves you puzzled, you can always go with the Different Strokes Brush Set ($68), which consists of a five-piece essential set.
Sephora Collection Skincare
Cleansers, smoothers or soothers? You don't need a complicated regimen, just one that does the trick. Sephora streamlines this process with the Wrinkle Fighting Super Serum ($43), Age Defy Night Cream ($41) and the Age Defy Cream for Lips and Eyes ($31). The Express Cleansing and Exfoliating Wipes ($11) is a must-have as it whisks away any and all makeup to relieve skin of impurities.
Sephora Collection Tools & Accessories
A few limited edition sets from Sephora are just too good to pass up. The In Flight Beauty Sleep Kit ($31) and the So Fit & Fly Gym Kit ($31) has everything you would need for your solo trip.
Now winter doesn't seem so bad, does it? I guess you're on your way out the door planning your shopping list as, obviously, beauty calls.