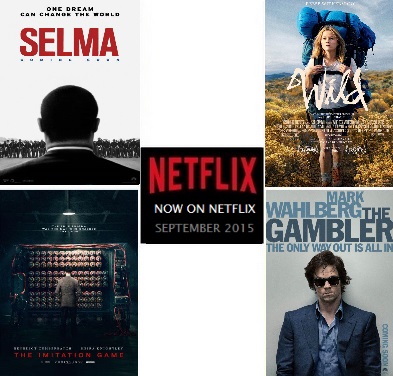 While it may be hard to believe it's September already, there's a stash of films that will keep you entertained over the next few weeks. Netflix is filled with cool new TV shows, award-winning picks and a few throwbacks for kicks.
Netflix Originals
Longmire: Season 4 (Sept. 8) and Keith Richards: Under the Influence (Sept. 15) vie for your attention in the Netflix Originals category this September. 
Netflix Exclusives
Taissa Farmiga charms fans in 6 Years (Sept. 8), while some fans will enjoy Cowspiracy: The Sustainability Secret, available September 15.
Cool Shows
As new shows take over your TV this fall, you can catch up with Season 4 of Once Upon a Time (Sept. 27), The Walking Dead Season 5 (Sept. 27), 19-2 Season 2 (Sept. 15), and bring your Kleenex for your fill of Shonda Rhimes' Grey's Anatomy Season 11 (Sept. 24).
S'more please
Movie fans can pick from movielover favorites, including Exodus: Gods and Kings (Sept. 1), I Am Legend (Sept. 1), The Gambler (Sept. 27),  Shooter (Sept. 1) and Lovelace (Sept. 6).
And the award goes to…
We all want to watch the movies that scoop the top awards so here's your chance. Selma (Sept. 20), The Imitation Game (Sept. 28), Wild (Sept. 1), Interstellar (Sept. 11), Mamma Mia (Sept. 1) and Leviathan (Sept. 3).
Cracking the code
The boys bring on their A-game with Body of Lies, Ocean's Twelve and The Departed available September 1.
Ridiculous & Risque
If you want to goof around with a few films, why not try The Purge, The Hangover, Eurotrip, Jackass: Number 2 and  Jackass 2.5. This bunch of goofy films will be available September 1.
Tween-Tastic
Tweens can dig into the Lindsay Lohan comedy Freaky Friday (Sept. 1) and/or The Lizzie McGuire Movie (Sept. 15). Walt Disney's Holes will also be available for teen fans.
Have a super streaming September!
~Marriska Fernandes