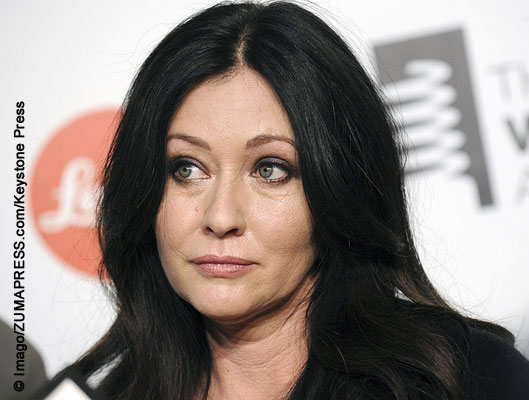 According to Shannen Doherty, her years are numbered.
The 45-year-old actress, who was diagnosed with breast cancer in early 2015 and is currently battling the disease through chemotherapy, said in an interview with Entertainment Tonight that she has five years left to live.
While discussing a conversation she had with her film producer husband Kurt Iswarienko, Shannen said, "I told him [Kurt], 'You need to enjoy every single second you have with me because I'm going to be dead in five years.'"
The Beverly Hills, 90210 star continued by sharing details about how she broke the news of her diagnosis to Kurt. She said, "I called him, which was horrible of me. I was in the car. I was with my mom, and the doctor called me and I'm, you know, 'I'm going to wait until I see him,' and I just couldn't."
"I picked up the phone and I called him and he was like, 'Where are you?'" Shannen said.
When Shannen returned home and pulled into her driveway, Kurt was waiting for her.
"[He] hugged me and said, 'We are going to get through this. You are going to be okay… You're strong and you're powerful and you're not going anywhere. You have so much in your life. We are going to get through it as a family," she said.
Although her cancer has spread to her lymph nodes, Shannen said the disease has made her marriage "a thousand times stronger" and that she "could not have gotten through this without her husband."
The Charmed actress also told ET that she believes her dog Bowie (named after the late David Bowie) was the first to sense the disease. She said Bowie obsessively sniffed the right side of her body before she sought medical attention and was "supersensitive" to her right side after she underwent a single mastectomy.
Check out an Instagram photo of Bowie posted to Shannen's page below.