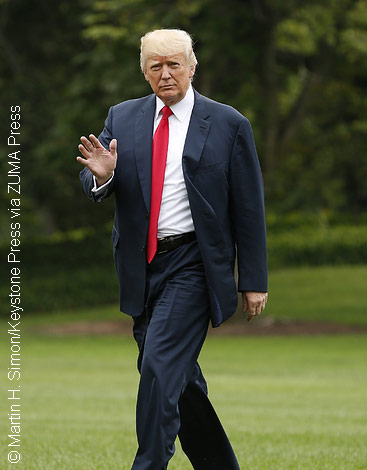 Donald Trump's open hatred of sharks has spiked an increase in donations to shark conservation charities. Nonprofit organizations such as Sea Shepherd Conservation Society and Atlantic White Shark Conservancy have received a flood of donations following the publication of an interview by In Touch Weekly with adult film star Stormy Daniels last week.
Daniels quoted Trump as saying, "I hope all the sharks die."
Daniels, who claims she had an affair with Trump that began in 2006, revealed that as she and Trump watched Shark Week on Discovery Channel, he said, "I would never donate to any charity that helps sharks." Daniel added, "He is obsessed with sharks. Terrified of sharks."
"We have been receiving donations in Trump's name since the story was published," Cynthia Wilgren, chief executive officer and co-founder of Atlantic White Shark Conservancy told MarketWatch, adding that many of the donations are from first-time donors.
Sea Shepherd Conservation Society founder Paul Watson said his group has received "quite a few" donations from people who specifically mentioned Trump's comments. One donor wrote simply, "Because Trump."
Sharks are a vital part of ocean ecosystems and the fate of humans is linked with that of sharks. Watson explained that if sharks go extinct, humans won't be far behind.
A longtime shark hater, Trump wrote in a Tweet dated July 4, 2013: "Sorry folks, I'm just not a fan of sharks – and don't worry, they will be around long after we are gone."
Trump's statement is unfortunately inaccurate. Nearly 100 million sharks a year are killed, mostly for shark fin soup, which Trump ate during a state dinner in Vietnam last November. His Trump Taj Mahal casino in Atlantic City (which almost closed in 2014 before being taken over by another company) also reportedly had shark fin soup on the menu in 2013, prompting a Twitter user to ask Trump to remove the item from his menu.
He responded with "You like sharks?" and then two more tweets in which he detailed his hatred of them, including, "Sharks are last on my list – other than perhaps the losers and haters of the World!"
When sharks are killed for shark fin soup, their fins are cut off and the sharks are then tossed, still alive, back into the ocean, where they are unable to swim and sink to the bottom to die, or to get eaten by other predators. According to the late Sharkwater filmmaker Rob Stewart, sharks are misunderstood creatures, thanks to movies such as Jaws and the media. When sharks bite humans, it's almost always because they have poor vision and made a mistake. They quickly let go and swim away. These incidents are few and far between, but are widely publicized in the media, making it seem like they occur frequently.
If you would like to donate to help sharks, click here to sign a petition to ban the trade of shark fins in the United States and click here to sign a petition to ban the import of shark fins across Canada.
You can also donate to a number of shark conservation societies, such as the Rob Stewart Fund through the World Wildlife Fund, United Conservationists, Sea Shepherd and Atlantic White Shark Conservancy. Just click on the name of the charity you'd like to support and you'll go through to their website/donations page. ~Alexandra Heilbron
Sharks are last on my list – other than perhaps the losers and haters of the World!

— Donald J. Trump (@realDonaldTrump) July 4, 2013
Sorry folks, I'm just not a fan of sharks – and don't worry, they will be around long after we are gone.

— Donald J. Trump (@realDonaldTrump) July 4, 2013