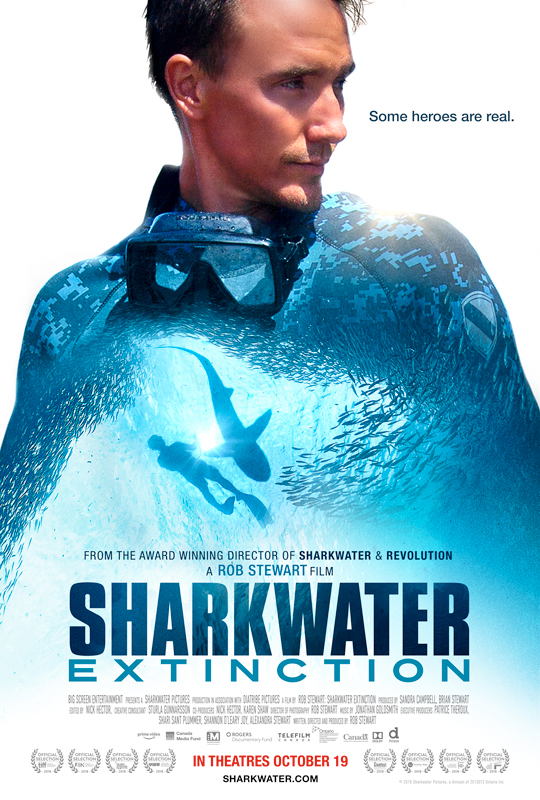 The 2018 Planet in Focus Environmental Film Festival (PiF) will be screening Rob Stewart's third film, the real-life action/adventure Sharkwater Extinction, which had its world premiere at the Toronto International Film Festival earlier this month. Also, the winner of the second annual Rob Stewart Youth Eco-Hero Award has been announced.
The Toronto-based festival seeks to engage and enlighten audiences on a broad range of environmental issues that face our world today, while also awarding those who exhibit a commitment to bettering the planet. This year's recipient of the Rob Stewart Youth Eco-Hero Award is Toronto high school student Rachel Parent, who became an activist for food transparency by making GMO labeling a law in Canada. She also founded Kids Right To Know, a non-profit organization that advocates for youths to have healthy diets.
Rob Stewart was an award-winning filmmaker and activist who exposed the illegal shark finning trade. In 2014, he was the youngest winner ever of PiF's International Eco-Hero Award. His powerful first two films, Sharkwater and Revolution, revealed the devastating reality of shark finning and its effects on a diminishing shark population as well as the results of ocean acidification on the world's population.
He is the namesake for the Rob Stewart Youth Eco-Hero Award, which is presented annually to a Canadian environmental activist under the age of 20. The inaugural award was given to filmmaker Jonah Bryson at last year's festival.
Click here for more information and to get your tickets to the special presentation of Sharkwater Extinction on Sunday, October 28th.
The PiF festival runs from October 25 to 28, 2018.
Sharkwater Extinction is scheduled to hit theaters across Canada on October 19, 2018. ~Caitlyn Clancey
For more about Sharkwater Extinction, check it out on social media:
Instagram: @teamsharkwater
Facebook: @SharkWater
Twitter: @teamsharkwater