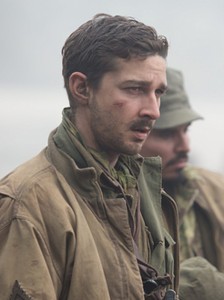 While getting into character for his most recent role, Shia LaBeouf, 28, took it to the extreme by slashing his face and removing a tooth. Shia stars in the upcoming war flick Fury alongside Brad Pitt and Logan Lerman. Logan recently revealed to British GQ that the makeup just wasn't believable enough for Shia, saying, "We were in makeup and they were putting cuts on Shia and I said, 'Yeah, yeah, it looks good." However, it turns out Shia didn't agree. Logan explained, "Shia was like, 'No it doesn't look real.' Then he walks out into the hallway and says, 'Hey man, wanna see something fun? Check this out…' and he takes out a knife and cuts his face. For the whole movie he kept opening these cuts on his face. That's all real."
Talk about committing to a role.
Shia didn't stop there though—he also pulled out a tooth. Logan explains, "He did go to a dentist and asked them to pull his tooth out, but yeah, what an odd request." Even though Shia took his role to the extreme it didn't seem to bother Logan. "I f–king love it!" he exclaimed.
Logan wasn't the only cast member to gush to the magazine about Shia—Brad also sang his praises. "Oh, I love this boy," he enthused. "He's one of the best actors I've ever seen. He's full-on commitment, man. He's living it like no one else, let me tell you. I've been fortunate to work with a lot of great actors. He's one of the best I've seen." ~Janine Wyslobicky