Silicon Valley: Season One DVD review
By Tribute on March 31, 2015 | Leave a Comment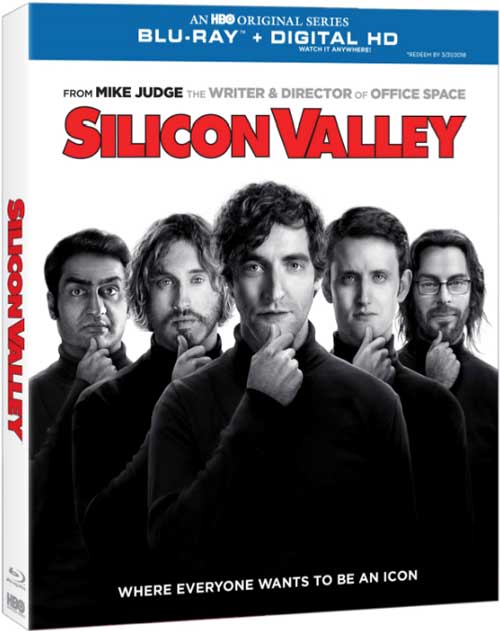 If you're a fan of the movie Office Space and/or the sitcom The Big Bang Theory, this comedy mini-series might just be up your alley. In this case, your valley.
Silicon Valley comes from the mind of Mike Judge (Beavis and Butt-Head, King of the Hill) and follows the exploits of introverted programmer Richard, played by Thomas Middleditch. Richard works for a big tech company called Hooli (with similarities to Google) and has come up with an algorithm breakthrough with his music app, Pied Piper. He finds himself caught in a bidding war between Hooli's CEO and  oddball investor Peter Gregory (played by the late Christopher Evan Welch), whom Richard met at a TED Talk.
Richard lives in a house for hackers (Hacker Hostel) owned by a strange investor named Elrich (T.J. Miller) who automatically gets 10 per cent of everything his housemates create. Joining him are his socially awkward but endearing programming friends (Josh Brener, Martin Starr and Kumail Nanjiani) who make coding look fun and have you wishing you had paid more attention in computer class.
The plot of this series is simple, but the satire about the absurdities of start-up culture is pure genius, making this one of the funniest new shows in a while. It has a slight documentary feel, which may come from Mike Judge's experiences working in Silicon Valley in the 1980s as an engineer.
The eight episodes run 30 minutes each, making Silicon Valley the perfect kind of show to binge watch on a lazy Sunday afternoon.
Special features on the Blu-ray include audio commentaries, deleted scenes, outtakes, a tour of Hacker Hostel and the making of Silicon Valley.
Season Two premieres April 12 on HBO. ~Suzanne Coolen
---
---
---