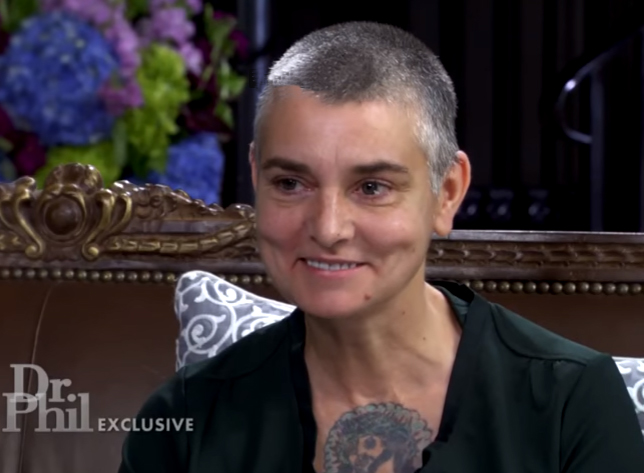 Troubled singer Sinead O'Connor appeared on Dr. Phil's TV show this week, where she admitted her mother, Marie O'Connor, "ran a torture chamber."
She continued, "It was a torture chamber. She was a person who took delight, would smile in hurting you." Sinead revealed that her mother abused her from the time she was a toddler until she was in her teens.
"My earliest memory, she's telling me I shouldn't have been born. She didn't want me," the Irish singer recalled. "She didn't want girls. She wanted me to be a boy. She [dressed] me like a boy, she chops my hair off. Whenever she beats me, which is daily, I'm naked. She makes me take my clothes off. I have to lie on the floor. I have to open my arms and legs. I have to let her attack my abdomen. She wants to burst my womb. She wants to destroy my reproductive system. She wants to stop me from being a female."
She added that Marie hit not only her, but also her siblings with hockey sticks and tennis rackets, and added that she was also sexually abused as a child.
Sinead said the abuse stopped when she was 14, and had grown to be the same size as her mother. She rationalized her mother's actions, saying, "She was not well. She was really very, very, very not well. I would say she was possessed, although, I'm not sure I believe in such things. So either she was just a sadist and a pedophile or she was possessed by the devil."
Marie died in a car crash when Sinead was 19. Two years later, Sinead had the number one single in the world with "Nothing Compares 2U." Over the years, Sinead has shown signs of being emotionally unstable, including posting a video in which she said she was suicidal, begging her family for help.
She told Dr. Phil this week, "I am fed up of being defined as the crazy person; the child abuse survivor." He responded by saying that he'd contacted David Foster, who stated he would be very happy to work with Sinead on a new song.