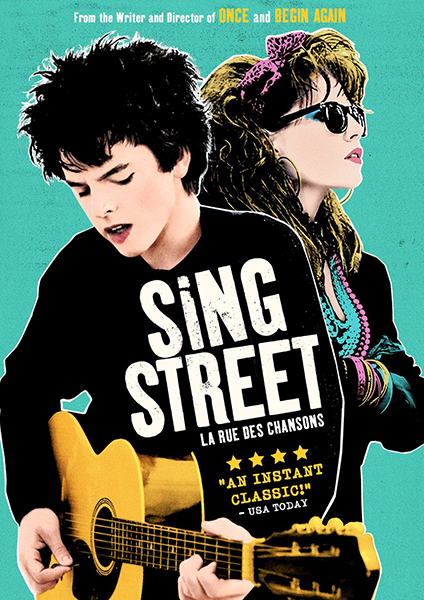 Sing Street is the story of 15-year-old Conor Lalor (Ferdia Walsh-Peelo) and his naive pursuit of a girl way out of his league.
The year is 1985, and Conor and his family live in south Dublin. After a rough first day at an all-boys Catholic school, Conor notices 16-year-old Raphina (Lucy Boynton) looking cool and sexy across the street. He tells her he's in a band and asks if she'd like to appear in their music video. When she agrees, Conor decides he better start a band.
The boys call themselves Sing Street.
It's not all fun with Conor. He's dealing with some nasty bullies at school, and his home life is slowly falling apart as it becomes clear his mother is having an affair.
Sing Street is a delightfully uplifting story of teenage boys starting a band. I was grinning from ear to ear watching Conor discover Duran Duran, Hall & Oates, The Jam and eventually even writing his own music. He did it all for the love of Raphina, and with all the innocence of youth.
John Carney, the film's writer and director, is among my favorite filmmakers. His movie Once (2007) had an incalculable effect on my life, and Begin Again (2013) reminded the generation haunted by the raw power of Once that Carney was anything but a one-trick pony.
One issue I had was the exact same issue I had with Begin Again. The band performs live on the street, or in rehearsal, and the audio sounds professional. How does that work?
There's a scene in the movie where Conor starts playing his acoustic guitar and singing, and there's noticeable auto tune. I didn't realize autotune existed in the '80s. Yes, it's a movie, but the scene is supposed to be a boy and his friend in a room playing music together. Why does it sound so polished? They could have mixed it to sound less refined.
The same can be said of Sing Street's "amateur" music videos. They sound like they were recorded in a professional recording studio, and yet they're supposed to be "live." Begin Again was also criticized for this.
Sing Street is a brilliant film. I strongly recommend it for fans of the '80s, John Carney films and the young at heart. It was an absolute pleasure to watch.
The DVD comes with bonus features. They are Making Sing Street, Director John Carney & Adam Levine Talk Sing Street and Cast Auditions.
It's a well-cast film, and the auditions are bursting at the seams with talent. The soundtrack is equally impressive and diverse with Adam Levine, M and Joe Jackson singing on it. The soundtrack also comes with Sing Street's original songs.
Have you seen Sing Street? Click here to write your own review. ~ Yanis Khamsi