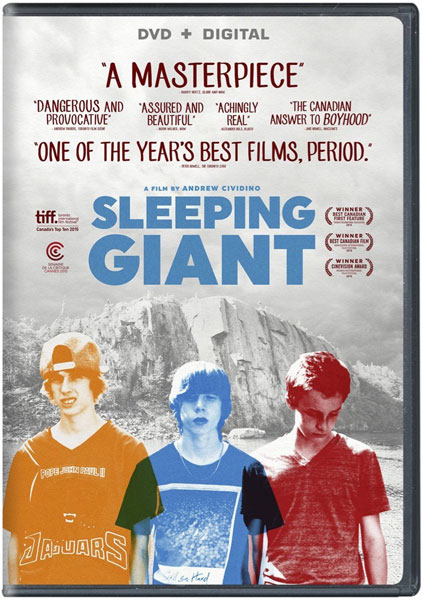 Every now and then I'm fortunate enough to see a movie that really moves me.
This was the case when I saw Sleeping Giant. I felt like I was 15 again.
Sleeping Giant is the story of 15-year-old Adam (Jackson Martin), who's spending summer at a cottage on Lake Superior close to Thunder Bay. Adam spends his time with trouble-making cousins Riley (Reece Moffett) and Nate (Nick Serino). The three go on an unforgettable summer adventure together. This includes cliff jumping, robbing a convenience store and of course, chasing girls.
What immediately endeared me was the thick north Ontario accent of every character. I felt nostalgic for my adolescence in small town Ontario. The way these actors played off each other, you would swear it was unscripted.
The dialogue of these characters was so frighteningly accurate that I felt like I was watching a reality show. The camera work is free and unobstructed. The blocking is so inconspicuous that it feels like the filmmakers just let the scenes play out naturally. I love polish, but there's something to be said about some of the rawness of Sleeping Giant.
Sleeping Giant is named after an actual peninsula near Thunder Bay. The boys spend the summer daring each other to jump off the island's 250-meter cliff. Perhaps the title is also a metaphor for the secret Adam discovers about his father. The burden of the secret may very well feel like a Sleeping Giant.
My favorite moments in the film were the quiet conversations between Adam and his friend Taylor (Katelyn McKerracher). Katelyn McKerracher has real star quality. The way she delivers her lines, the vivaciousness of her facial expressions and her ease on camera will grab audiences and casting directors alike.
But I must give credit where credit is due. Canadian cinema is so often eclipsed by our Yankee neighbors that it becomes all too easy to miss a gem like Sleeping Giant. If you're looking for a character-driven summer movie about the innocence and confusion that comes with being 15, I simply cannot recommend Sleeping Giant enough.The only thing I could complain about is the lack of clear exposition for some of the characters. A part of me likes mystery, but I imagine my mother watching it and occasionally asking "who is that again?"
The ending left some details unresolved, but I have to commend director/screenwriter Andrew Cividino for taking a risk and not ending with happily ever after. Impulsive choices have consequences. Not always good.
The DVD comes with Bonus Features. The Music of Sleeping Giant, Bloopers, Extended Scenes (Yes!), Cannes Documentary and Audio Commentary. 
If you're tired of Hollywood trying and failing to depict what adolescence really is, I insist you check out Sleeping Giant. You'll thank me later. If you've already seen it, Click here to review it. ~ Yanis Khamsi