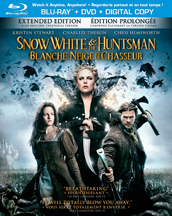 When a magic mirror tells the Evil Queen (Charlize Theron) she must eat Snow White's (Kristen Stewart) heart to remain the "fairest of them all," she sends the Huntsman (Chris Hemsworth) on a mission to retrieve her. It's not long before the Huntsman finds Snow White, but he betrays the Evil Queen's demands and becomes Snow White's protector, joining her in an effort to end the Evil Queen's reign of terror.
A more dark and medieval version of a beloved fairytale, director Rupert Sanders' revamped Snow White features a stronger, more independent female in the lead role of Snow White & The Huntsman. While two men vie for her love and attention, she must battle for her life in the Dark Forest. The dwarfs are still on hand, providing assistance to their dear Snow White when it is needed, but Doc, Grumpy, Bashful, Sleepy, Happy, Sneezy and Dopey are replaced by Beith, Muir, Quert, Coll, Duir, Gort, Nion, and Gus.
The Evil Queen is just as disturbing as she always has been, but the attractive package her contempt is presented in – that being the beautiful Charlize Theron – quite possibly makes the character seem all the more sinister. Taking a more direct attempt at Snow White's demise, the Evil Queen makes the story more attractive to an adult demographic.
Charlize Theron is spectacular as the Evil Queen, portraying with grace and beauty a character not even a mother could love. Chris Hemsworth takes on the role of the Huntsman, and brooding, yet sensitive hero definitely suits him well. In the role of Snow White Kristen Stewart must step out of her quiet and awkward demeanor to take down the powerful and cunning queen.
Featuring an extended edition as well as the version seen in theaters, the DVD/Blu-ray provides a variety of additions for fans. Segments entitled Reinventing the Fairytale and The Magic of Snow White & The Huntsman delve more into the story, while Citizens of the Kingdom and Around the Kingdom: 360 Set Tour bring you closer to the characters and setting. Feature commentary is also present, with A New Legend is Born (the making of the movie) rounding out the special features. ~Morgan Bates