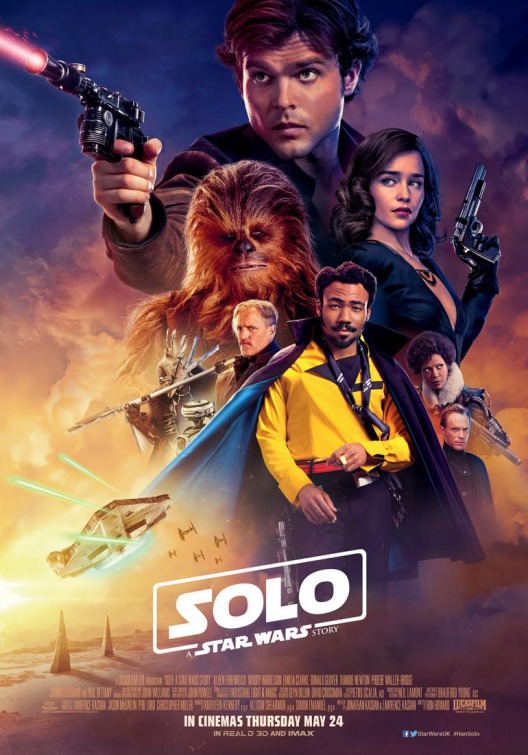 This weekend's box office saw last week's top earners all drop one spot to make room for newcomer Solo: A Star Wars Story, which took first place in its opening weekend.
Solo: A Star Wars Story, starring Alden Ehrenreich, dominated the box office, earning a lower-than-expected $83.3 million and taking over the top spot. The sci-fi adventure film chronicles the life of a young Han Solo as he journeys into the dark criminal underworld, meeting some familiar faces along the way. Our users gave it a rating of 4.2 out of 5 stars.
Deadpool 2 raked in an additional $42.7 million to bring its domestic total to $207.4 million as it dropped to second place for its second week in theaters. The Deadpool sequel stars Ryan Reynolds and has a user rating of 3.1 stars.
Avengers: Infinity War fell one spot to third place in its fifth weekend in theaters, earning $16.5 million for a domestic total of $621.7 million. The star-studded superhero flick has a user rating of 4 stars.
In its second weekend out, Book Club was nudged one spot into fourth place. It raked in an additional $9.5 million to bring its total earnings to $31.8 million. Our users rated it 3.8 stars.
Melissa McCarthy's comedy Life of the Party rounded out the top five, earning $5.1 million to bring its domestic total to $39.1 million during its third weekend in theaters. Our users gave it a rating of 3.8 stars. ~Caitlyn Clancey