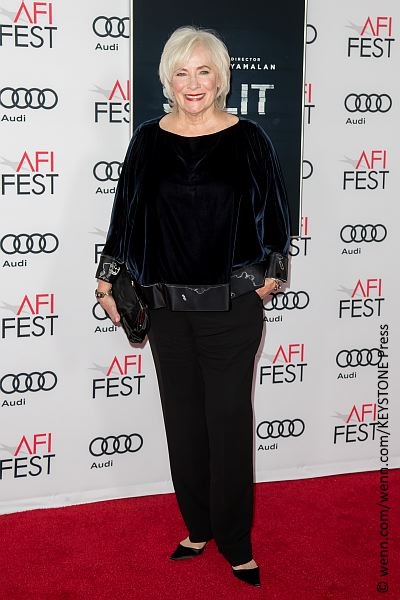 Unlocked from the mind of M. Night Shyamalan, Split is the twisted, compelling thriller that we have been waiting for since the director's successful slew of movies such as The Sixth Sense, Signs and more recently, The Visit.
This wickedly entertaining thriller builds the suspense and keeps you hanging onto the edge of your seat until the end — and his signature twists are in true Shyamalan style. To celebrate the release of the film on Blu-ray and DVD, we chatted with Betty Buckley, who plays Dr. Fletcher.
Tell us about how you landed the role. I heard M. Night wrote this role with you in mind.
They sent me the script and I had a phone conversation with Night and he told me he wrote it for me. It was such an honor — a beautiful gift. So I was very excited about it and thrilled when I heard James McAvoy would be playing the lead. I was beyond excited to get to work with him as I'm a huge fan of his.
How did you prepare for the role? What surprised you the most?
I worked for several weeks with a psychologist in New York who had some experience with DID [dissociative identity disorder] patients. We went through scene-by-scene, line-by-line and she was explaining to me how Dr. Fletcher would be feeling, what her professional decorum should be and then she generously made herself available to talk to me on the phone on the night before the big scenes with McAvoy so I was real clear of what my intention was. It was all very exciting. I'm thrilled for the success of the movie.
Did you meet any DID patients?
No, I read three books that Night recommended. I'd been interested in the subject matter since I was a pre-teen. I was fascinated by the fact the human beings can have such a creative response to pain and suffering and abuse. So I've always been interested in the subject matter.
I heard Sterling K. Brown was part of the original story. Can you tell us about his role and why it didn't make it into the theatrical release?
He plays a colleague to Dr. Fletcher, who is very supportive of her work and her theories about DID. They were dropped from the film because it kind of distracted from the main story line. But Night told me he was going to be including it on the DVD and Blu-ray and I'm excited to see it.
I'm in awe of James' performance. What was it like watching him transition between personalities so effortlessly?
It was amazing, especially that scene where his character is breaking down and he is going from one personality to the next. It was just remarkable. I was thrilled to be on the set to see him shoot that. The whole cast and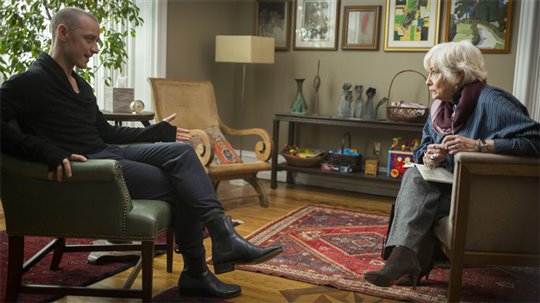 crew was yelling and screaming and applauding. It was amazing. It was one of the greatest film performances by an actor ever. I truly hope everyone remembers him at awards time. He deserves every award out there.
I agree! M. Night is back with such a fantastic film — I want to watch it again. What was it like working with him?
He's a really nice man. He's really funny and passionate. He's got this family of people in Philadelphia who he always works with. Majority of them have done a majority of his movies. It's a real family atmosphere on set. He's very mischievous and so am I. And James turned out to be very mischievous too. We had a good time teasing each other.
I heard you and James teased M. Night about being an ageist due to many of his films featuring a white-haired woman. Is that true?
Yes! If you notice there's always a white-haired lady in every one of his films. He always kills her off. I was thrilled to play the white-haired lady for The Happening and again for Split. I said we've got to congratulate you this time, Night, as you're not making her wear ugly clothes at least. So you really made progress.
That's hilarious! I love the themes in the movie about the strength of broken people and the potential of the human mind. Can you talk about those themes in the film?
I think part of the reason it's so successful because of its subliminal message is that human beings are capable of such creative adjustment to life, abuse, suffering and we're capable of so much more. And I think that that's what Night is saying in the movie and I think that subliminally gives people a lot of hope.
Was there a favorite personality you enjoyed watching James enact?
I think I loved the kid, Hedwig. Yes, he was amazing.
What's next for you?
I'm teaching a class from June 5th to 9th in Colorado. I've got some concerts in May, June, July and a whole set of concerts in the fall. In June I'm going to L.A. for the Actors Fund's 2017 Tony Awards Viewing Party and I just found out they're giving me the Julie Harris Award. I'm also nominated for a Saturn Award for Best Supporting Actress for Split and the movie is also nominated.
~Marriska Fernandes