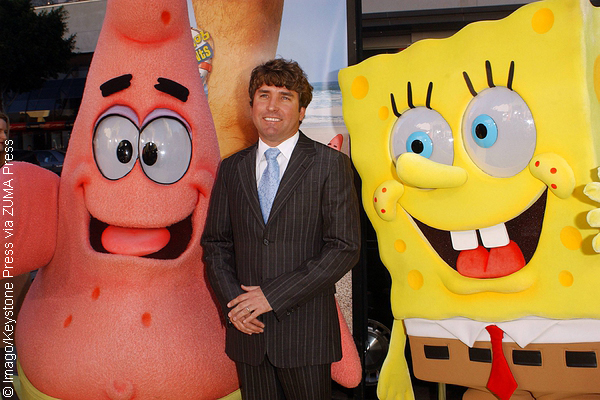 Stephen Hillenburg, the man behind popular Nickelodeon cartoon, SpongeBob SquarePants, has been diagnosed with rare neurodegenerative disease ALS.
The 55-year-old animator (pictured left) announced his diagnosis via a statement to Variety on Monday (March 13). In it, Hillenburg said that he will continue to work on the series for as long as he can.
"I wanted people to hear directly from me that I have been diagnosed with ALS," the statement read. "Anyone who knows me knows that I will continue to work on 'SpongeBob SquarePants' and my other passions for as long as I am able. My family and I are grateful for the outpouring of love and support. We ask that our sincere request for privacy be honored during this time."
Hillenburg, a former marine biology teacher, created the series about the seafaring sponge in 1999. The show started out as a regular in the Saturday morning cartoon lineup, but after generating buzz from kid and adult audiences alike, it soon made its way to prime time.
In 2004, Hillenburg directed the franchise's first feature film, The SpongeBob SquarePants Movie, and went on to co-write and executive produce the 2015 sequel, The SpongeBob Movie: Sponge Out of Water. The series and its characters have become fan favorites, and last March, Nickelodeon renewed the show for a both a 10th and 11th season.
Following Hillenburg's announcement, Nickelodeon shared their support for their longtime collaborator.
"Steve Hillenburg is a brilliant creator who brings joy to millions of fans," the company said in an official statement. "Our thoughts and support are with Steve and his family during this difficult time. Out of respect for their wishes for privacy, we will have no further comment."
ALS (Amyotrophic lateral sclerosis), also known as Lou Gehrig's disease, is a terminal illness, which affects the nerve cells that control muscles. As the disease progresses, the motor neurons that connect the brain to voluntary muscles in the body degenerate, resulting in a loss of mobility, loss of speech, and eventually the ability to breathe. There is no known effective treatment for the disease.
In 2014 an online campaign called the "ALS Ice Bucket Challenge" was started to bring awareness and raise donations to fund research for the disease. The challenge took social media by storm, with many celebrities and notable public figures joining the cause. Last year, The New York Times reported that over $115 million was raised for the A.L.S. Association by supporters, with $77 million, or 67 percent, going towards research initiatives. ~Ashleen Grange