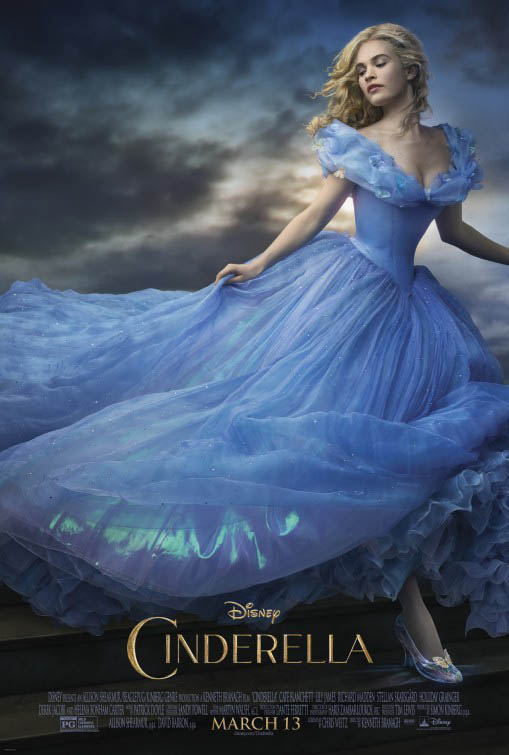 Spring is just around the corner! The flowers bloom, the sun shines and rom-coms and chick flicks sprinkle some love and drama in the air. Here are some of the films coming to the big screen this spring to help you start planning your girls' nights out.
A New Twist on a Classic Tale 
Cinderella (Mar. 13) is definitely a must-see this spring. Lily James shines as the good-hearted, yet ill-treated Ella and Richard Madden makes a dashing Prince Charming. The dress is exquisite and, OMG, those shoes! Cinderella's fairy godmother (Helena Bonham Carter) really outdid herself with those stunners. The magic in this movie will put a spell on anyone – so, ladies bring your boyfriends and husbands because there's something for everyone!
Two Worlds, One Heart
Of course there has to be a Nicholas Sparks entry. The Longest Ride (Apr. 10) follows the paths of the love affair between two star-crossed lovers; Luke, a former champion bull rider wanting to make a comeback and Sophia, a college student about to start her dream job in New York City. The couple begin to wonder about the fate of their future together, until they meet Ira; an elderly man whose decades-long romance with his wife give them inspiration in their own love, while exploring love's challenges and rewards.
Dance Like No One's Watching 
Set in Iran, Desert Dancer (Apr. 10) follows the ambitious Afshin Ghaffarian. Afshin and his friends risk their lives to form an underground dance group in a country where dancing is banned. They watch prohibited online videos and learn dance moves from the likes of Michael Jackson, Gene Kelly and Rudolf Nureyev. Afshin and his friend Elaheh learn to embrace their passion for dance. And for each other.
The Fountain of Youth 
Who doesn't want to stay young forever like Blake Lively in The Age of Adaline (Apr. 24)? Adaline has managed to remain 29 for almost eight decades, but she lives in confinement so no one can get close to her secret (we're not sure if we'd share it either). When she meets a philanthropist, he rekindles her desire for romance and love and she must make a decision that will change her life forever. Share your secret Adaline! Who wants to be lonely forever?
Decisions, Decisions 
What's a girl to do when everyone wants her? In Far from the Madding Crowd (May 1), the beautiful and headstrong Bathsheba catches the eye of three very different suitors; a sheep farmer, a sergeant and a bachelor. Her choices explore the nature of relationship and love and the ability to overcome hardships.
From the Streets to the Stage 
In She's Funny That Way, Broadway director (Owen Wilson) falls for a prostitute-turned-actress (Imogen Poots) and casts her alongside his wife (Kathryn Hahn). The playwright (Will Forte) also falls for her, even though he's dating Jane (Jennifer Aniston). Love is complicated, isn't it?
The Price of Fame 
In Welcome To Me (May 1), Alice (Kristen Wiig) suffers from dissociative personality disorder and wins the lottery. What does she spend it on? A cable access talk show about herself. The show reflects her larger-than-life personality and fame-obsessed state of mind. But as the saying goes, "You win some, you lose some"  – and sometimes the cost is your friends and family.
Encore! 
What better way to send off spring and welcome summer than with Pitch Perfect 2! The Barden Bellas are back March 15 in their senior year for one more performance. They enter a global competition that no American team has ever won.
There you have it! Your rundown of the spring 2015 chick flicks. Grab your girls and enjoy! ~Sandra D. Sukraj