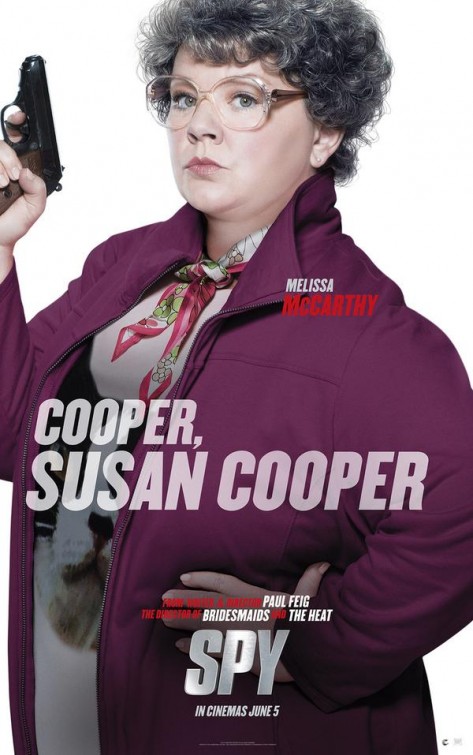 Melissa McCarthy's new comedy Spy, which finds her teaming up again with her Bridesmaids director Paul Feig and co-star Rose Byrne, not to mention the likes of Jason Statham in his first comedy role, topped the weekend box office with an estimated $30 million. McCarthy's movies have a history of debuting well, and with a very healthy Rotten Tomatoes rating, Spy marks McCarthy's first top spot box office debut as a lead star. Tribute.ca readers also enjoyed the film, rating it 3.6 stars.
Last weekend's top movie, San Andreas, continues to do well, earning an additional $26.4 million. The disaster flick stars Dwayne Johnson and Carla Gugino as parents rushing to save their daughter (Alexandra Daddario) from the devastating results of a massive earthquake. Tribute.ca readers loved it, giving it a rating of 4.3 stars.
The horror prequel Insidious: Chapter 3 debuted closely behind in third place, scaring up an estimated $23 million. Starring Dermot Mulroney and Leigh Whannell, the movie was obviously enjoyed by Tribute.ca fans who are up for a good scare, giving it a rating of 2.4 stars. 
After a long run on HBO, Entourage made the leap to the big screen. Vince (Adrian Grenier), E (Kevin Connolly), Turtle (Jerry Ferrara) and Drama (Kevin Dillon) all reprised their TV roles. Although the movie got off to an impressive start, earning $5.3 million when it opened on Wednesday, it ended up bringing in a disappointing $10.4 million over the weekend, landing it in fourth place. Tribute.ca readers rated the film 2.5 stars.
Rounding out the top five was Mad Max: Fury Road, which dropped from last week's fourth spot, earning $8 million this weekend. Readers are continuing to enjoy George Miller's reboot of his original Mad Max movies and gave the film 3.8 stars. ~Greg Chisholm