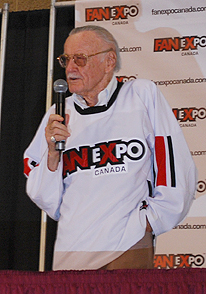 Hall G, the biggest hall available at Fan Expo, is packed to the brim with excited fans. In the very front row of the theater, a young boy bounces up and down, unable to control his enthusiasm. Suddenly, a moderator taps his microphone.  "How are you guys doing tonight?" he asks, clearly excited.  "We've got a really amazing way to kick off Fan Expo 2012 here with us tonight. Should we do a 'One-two-three Excelsior?' Please welcome Stan Lee!"And with that, the crowd exploded into applause as the famous comic book writer burst onto the stage, looking as energetic and timeless as ever, saying, "I heard that magic word."
Lee and the moderator dove directly into the Q&A session, taking questions from members of the audience – including one from the young boy in the front row. Throughout the panel, Lee spoke candidly about his inspirations, his history and his future, addressing his decision to abandon his position as President of Marvel, an upcoming superhero that he's working on (The Annihilator!) and how he believes (only half jokingly) that Marvel is far more grounded scientifically than DC Comics is. How, exactly? Hint: Superman has no active means of propulsion to explain his flying, while Thor does.
But his favorite thing to do right now? Making cameo appearances in all of the recent Marvel films. He says his upcoming one for Iron Man 3 is one of his favorites, and he's also pretty sure that most of the box office success for The Avengers is due to his appearance at the end of the movie – meaning that people who missed him the first time had to go back and pay a second time to catch him.
Other tidbits include the fact that Lee was never satisfied with the way that Daredevil was depicted on screen, claiming that the writing on the film starring Ben Affleck was "all wrong" and that he expects that Deadpool is too good of a character not to be properly adapted by Hollywood – and we might see something soon.
Lee had fans, the moderator and the press roaring with laughter for the entire 40 minutes that he was on stage, and doesn't seem to have lost even a bit of his charm and wit, even at 90 years old. Watch excerpts from the panel above.