Young actor Leo Howard stars in the upcoming Shorts movie and shows off his martial arts skills in GI JOE: The Rise of Cobra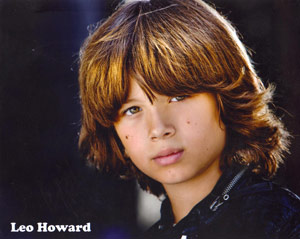 If you found a magical rock that could grant you any wish you desired, what would you wish for?
That's the question that faces eleven-year-old Toe Thompson (Jimmy Bennet) in the upcoming film, Shorts. In Toe's neighborhood of Black Falls, everybody has a Black Box, the ultimate communication and do-it-all device. But when a mysterious rainbow-colored rock with wish-granting powers falls from the sky, Toe, along with his buddies Lug (Rebel Rodrigues), Loogie (Trevor Gagnon) and Laser (Leo Howard) take their quiet suburb by storm… until the rock falls into the wrong hands.
Up-and-coming 12-year-old actor Leo Howard recently talked to Tribute about filming Shorts, what it was like on set and about his other movie GI JOE: The Rise of Cobra.

Can you tell me a little bit about your character Laser in Shorts?
Howard: Yeah, there are three brothers: Loogie, Lug, and Laser, and Laser's kind of the more mature brother of the three. Loogie's the one who's always wishing for dumb stuff, you know, like a giant soda, a castle and stuff. Lug is just wishes for video games but Laser's more logical, thinking about world peace and all that. And he's the more mature brother of the three.
How did you get the part?
Howard: Well I auditioned about a year and a half ago, and I auditioned for the first time and they went and got my mom and they said "Okay, we love him; we want to bring him back to the callback." So I went and Robert was there, and I'd heard of Robert Rodriguez (director), but I didn't remember from where. So I was like "What?" and they were like "He's the director of Spy Kids" and I, like, freaked out! It was awesome.
In the movie, Mr. Blackbox creates a do-it-all device. Are you good with gadgets?
Howard: Actually, yes, I'm very good with gadgets. My mom gets these new iPhones and stuff and she's like "Leo, can you figure it out?" because she had no idea. So yeah, I'm pretty good with gadgets.
What would be the perfect gadget?
Howard: The Blackbox, definitely. Like they had a blackbox video game, which was really cool, it could like transform into a computer so you could buy games online and stuff and it transformed into a video game and then it would transform into a phone. So if I had any gadget that would definitely be it!
What was it like working with your co-stars?
Howard: It was great, everyone was great. Trevor Gagnon, Rebel Rodriguez, who is actually Robert's son. I actually made like a best friend out of one of the kids in the movie, his name's Devon, he played the bully in the movie.
Did you get to have any fun between scenes as well?
Howard: Oh yeah, for sure, we were all joking in between. It was really hot, so mostly we were inside. We rented a house and then we'd go into the air conditioning and then go back and forth. So yeah, most of the time we'd just play blackjack or something.
Did any funny mishaps happen while filming scenes for Shorts?
Howard: Definitely! Well for one of the scenes I have the rock and the kids are fighting over it, so I wish for long arms. For the long arms they made a rig, they put a PVC pipe on it with extra long sleeves on the shirt I was wearing and silicone hands on the end and they were eight feet long! So I had to hold those in the air, and when I ran outside, Robert wanted me to flop my arms everywhere, so start flopping them everywhere, and one of my arms falls off! So I'm running and you just see a giant sleeve just flopping. And as I was running, they were eight feet and they would just fly behind me, so everyone had to duck! All the kids ducked!
How do you balance your acting career with school?
Howard: Well I'm home-schooled so that makes it a lot easier. Really, my mom can totally control it, so she adds acting into it. So it works very well. I don't know how I could do it if I was in regular school. Like in third grade, I was missing almosts five months out of the school year!
You've also done TV. How is that different from making movies?
Howard: There are advantages and disadvantages for both. Like for the Leo Little's Big Show TV show that I'm doing, and they shoot it in one day, whereas a movie, you'll shoot for five weeks and then it's done, or however long the movie is and then you're done. But for television it keeps continuing. I love that, it's awesome.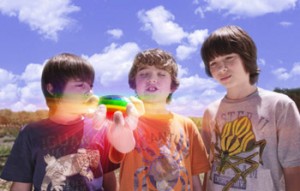 You're also in G.I. JOE: The Rise of Cobra as a young Snake Eyes. Can you tell me about what it was like working on that movie?
Howard: That movie was awesome, again. Before our filming started, we rehearsed for about a month on the fight scenes and all that. It turned out, and it was really good, it was really awesome. There was a kitchen scene where I break into a kitchen and I'm hungry and I want to eat food, so I start eating and the kid sees me and we start fighting—me and Brandon Soo Hoo (who plays a young Storm Shadow). We both start fighting and it kind of ended that way.
I hear that you're into martial arts. Did you teach your co-starts any martial arts tricks while you were filming?
Howard: Actually, yeah! Brandon Soo Hoo trained with me in the martial arts now and he's doing really well.
You also got to do your own stunts. What was that like?
Howard: Yeah, that's right. There were a lot of flips and the fighting, and I get to do all of it, which was definitely a blessing.
Did you wear a harness or anything to help you?
Howard: Oh no, I can flip. I do extreme martial arts! It's fun. You should watch my Youtube video–it's Leo Howard Tricks.
You're also part of the Side Swipe Performance Team. Can you tell me a bit about what you do there?
Howard: Yeah, Side Swipe is a performance team that we do extreme martial arts and it's a mixture of all types of martial arts and acrobatics. And basically we go all over the world basically just performing for people. It's about a 90-minute show.
– Sarah Bradbury