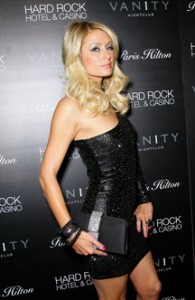 Paris Hilton and other stars use this special body treatment to lose inches in hours.
—By Toni-Marie Ippolito
Ever wonder how some of your favourite Hollywood stars fit into those slinky gowns during red carpet events during awards season? Diet and fitness play a major role, but there's another secret to losing inches fast: the Universal Contour Wrap (UCW) by Body Beautiful Canada.
Star such as Paula Abdul, 90201's Anna-Lynn McCord and Paris Hilton have gushed about how they've lost six to eight inches from the wrap treatment. "It's amazing how you feel after losing the inches—it is a very comfortable process," Abdul said. "Tell them I loved it," said Paris Hilton. "I felt so much better after. They have such high tech equipment and great products. I look forward to my next visit."
Developed by Dr. Richard Strem,  the UCW involves being wrapped in 25 to 30 elasticized bandages that have been pre-soaked in a warm, mineral-rich sea clay. The UCW bandages are wrapped firmly around the body to help the body firm up, while the natural sea clay minerals stimulates the lymphatic system drawing out toxins. Participants at spas are  guaranteed  a loss of at least six total body inches in two hours.
As a skeptic, I tried the wrap treatment at Toronto's GQ Spa and after being wrapped like a mummy I did in fact lose 11 1/4 total body inches. Also, my skin felt smoother and softer. It was definitely worth the uncomfortable feeling of being wrapped in bandages from head to toe. I was also surprised to know that men also do this wrap and are also raving about it the results!
Stars at the Canadian Country Music Awards last fall, including Shania Twain and Jann Arden, were also talking about the Eurowave. The Eurowave (originally developed for astronauts!) flexes muscles in a similar way to physical exercise. This treatment stimulates muscles and one session one is said to be the equivalent to performing about 200 sit-ups.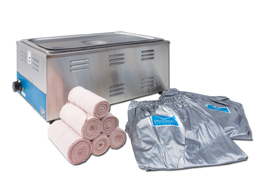 If you're gearing up for a special event, or plan to walk a red carpet, it never hurts to eat healthy and hit the gym. But if you need to squeeze into that little black dress, the UCW spa treatment or Eurowave Treatment can be your little secret to looking like a star! Go to  bodybeautifulcanada.com for spa locations.