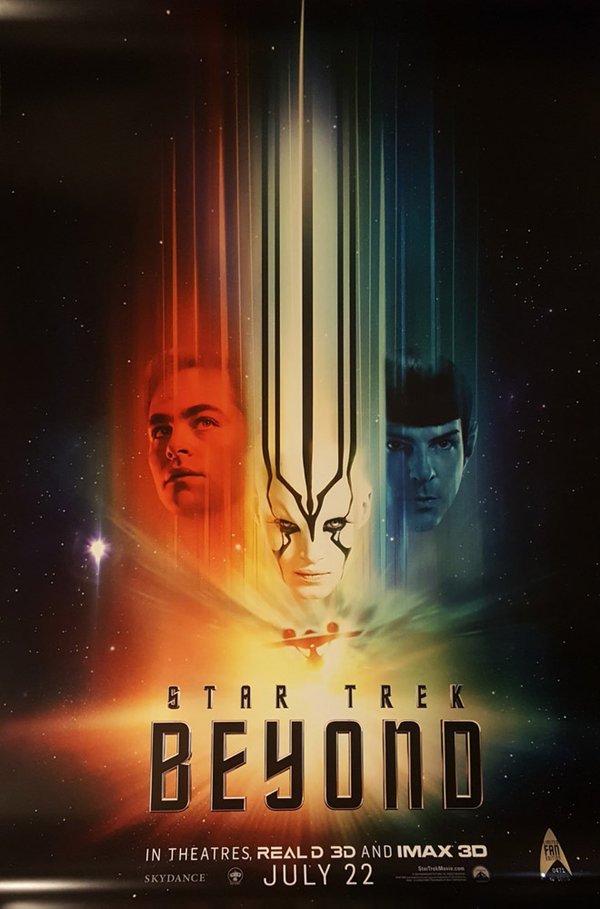 Star Trek Beyond is a breathtaking rocket ride from start to finish. If you're a casual moviegoer who's never seen Star Trek, I recommend seeing Star Trek (2009) and Star Trek Into Darkness (2013) first, but you won't be totally lost.
Ultimately, the film was made for fans of Star Trek, and if we judge it by that criteria, then the film is a success. At this point in the trilogy, Kirk (Chris Pine) has had two movies of character growth. At the end of Star Trek Into Darkness, it's clear that Kirk has finally become the mature and distinguished Captain so many of us Trek fans have come to know. Those two J.J. Abrams movies provided wonderful insight into who our heroes were when they were younger. The original Star Trek series introduced us to the crew of the USS Enterprise as seasoned Starfleet officers.
What makes Star Trek Beyond so interesting is that our heroes are no longer cadets, and no longer new to Starfleet in any capacity. Chris Pine looks so easy and confident as Captain Kirk that it's almost scary. This is a testament to not only how far the character has come, but also to Chris Pine's acting. I hope he keeps saying yes to playing Kirk.
This is the first movie in this series to not be directed by J.J. Abrams. The previous two movies were extremely brightly lit. Justin Lin, the new director, chose a darker and warmer feel, which reflects the grown-up nature of our cast. They're not cadets anymore, and I feel like a proud parent.
One of the most heart-shattering things I've ever seen on screen occurred in Star Trek Beyond: the total and complete destruction of the USS Enterprise. Krall's (Idris Elba) forces completely eviscerate the ship, and every agonizing moment of it is told perfectly. When Krall ordered his crew to "cut its throat," my heart sank faster than the ship.
After the Enterprise is destroyed by Krall, the crew is scattered on a nearby planet. They have no ship and no means to contact Starfleet.
Our two new characters, Jaylah (Sofia Boutella) and Krall, are interesting. Jaylah's family was killed by Krall and she survives by scavenging. Sofia Boutella does an incredible job playing Jaylah, and I consider her the breakout star of the film. I wish the movie was her struggle framed by the USS Enterprise's mission. Why not? Our cast is already developed.
Or the film could have been Krall's story. I won't give it away, but Krall's story is very dense and could have been told in a much more interesting way. Why couldn't it have been Krall's story with the USS Enterprise happening upon his planet? We already know the crew of the Enterprise and care about them, so seeing them caught up in Krall's turmoil would instantly hook us. That said, it may have destroyed the suspense of the crew being unexpectedly ambushed, although the movie's marketing gave that away.
Another thought for these movies: why not introduce a new member of the bridge crew? Our main characters are all pretty developed (and for the sake of nostalgia and appeasing fans, they can't deviate too far from what they have been for the past 50 years), so why not just introduce a new character? Think about it, the character can essentially be an avatar for Trek fans who have always wanted to interact with Captain Kirk or Mr. Spock (Zachary Quinto). You could argue that they did that with Jaylah, and it'd be nice to see her as a bridge officer in future movies.
On that note, where was Dr. Carol Marcus (Alice Eve)? I know you Star Trek nerds are going to tell me "it was explained in some comic blah blah blah." Fine, but the movie could have explained it. I miss her, and I still think Kirk needs a love interest or some kind of emotional anchor other than his crew. He can be written like an action figure sometimes.
Star Trek Beyond is still amazing because it feels like an episode of classic Star Trek, but with the production value no previous incarnation of Star Trek could have even dreamed of. I left wanting more. The movie doesn't "wrap up" the USS Enterprise's journeys, and after 50 years it still feels like there are endless galaxies left to explore.
Please see Star Trek Beyond if you've ever even remotely enjoyed a Star Trek movie or series. If you've been meaning to give Star Trek a shot, you should really give this movie a chance (just try to catch Star Trek and/or Star Trek Into Darkness beforehand).
Have you seen Star Trek Beyond? If so, Scotty (Simon Pegg) can beam you over here to leave your review, and feel free to comment below. Just don't set your phaser to kill.
P.S. Jaylah is named after Jennifer Lawrence (J-Law). How cute is that?! ~ Yanis Khamsi